SUMMER'S A GOOD TIME to take chances on theater—the regular season at all the big companies has concluded or is winding down, but there are plenty of mini-festivals, one-offs, and solo shows to distract you until fall. Here are some of this week's picks.
Sponsored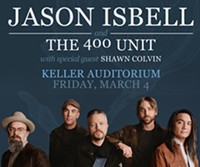 Jason Isbell has established himself as one of the most respected songwriters of his generation. Don't miss Jason Isbell and the 400 Unit, March 4th at Keller Auditorium!
___________________________________________________________
The Hen Night Epiphany
corrib theatre at CoHo Theater, 2257 NW Raleigh, Mon June 24, 7:30 pm, $12-15, corribtheatre.org
The newly formed corrib theatre is dedicated to showcasing contemporary and lesser-known work from Irish playwrights. They kicked off their company with a reading back in March, appropriately staged at Kells; The Hen Night Epiphany is another reading, this time at the CoHo, that features a cast of heavy hitters including Vana O'Brien, Jacklyn Maddux, and Laura Faye Smith. The show is about five women who travel to a remote Irish cottage for a bachelorette party (AKA "Hen Night"), where they mostly end up talking about their man problems. The script is often quite funny, but it staggers when it gets into emotional territory, in part because the experiences of these women are so sharply conscribed by the men in their lives. The five actors are engaged and engaging, though, O'Brien and Maddux in particular: These older actresses understand something the younger ones don't quite, which is that finding a rhythm that works for the language is more important than going "full Irish." For a show with no set or props, it's surprisingly compelling.
_________________________________________________________________________________________
Risk/Reward Festival
Artists Repertory Theatre, 1515 SW Morrison, 241-1278, Fri June 21-Sat June 22, 7:30 pm, Sun June 23, 5 pm, $18, risk-reward.org
The annual micro-festival was founded by Portland's own experimental theater stalwarts, Hand2Mouth, and curated by an impressive roster of West Coast tastemakers. Risk/Reward aims to bring together work from around the Pacific Northwest, and this year's lineup features dance from Vancouver, BC (Josh Martin's 605 Collective) and Seattle (Shannon Stewart), and performance art from Portland (the tough-to-categorize Wayne Bund, and the inspirational comedy of LanceLife, which has roots in the Famous Mysterious Actor Show). I'm particularly excited for Seattle's the Satori Group, a young company praised for their boldness and vision.
_________________________________________________________________________________________
CoHo Solo Summer
CoHo Theater, 2257 NW Raleigh, Thurs-Sun 7:30 pm, through July 14, $15, see cohoproductions.org for schedule
CoHo Productions is keeping the lights on with five weekends of solo shows, all by women, ranging from the heart-wrenchingly personal to the lightheartedly personal. We're one weekend down already (sorry, you missed your shot at Eleanor O'Brien's bawdy GGG: Dominatrix for Dummies), but there's plenty of good stuff to come: Erin Leddy brings back My Mind Is Like an Open Meadow, a love letter to her grandmother that's one of the most powerful and personal solo shows I've ever seen in Portland; Tonya Jone Miller explores her own mother's experiences in Saigon in Threads; Tara Travis turns in a fast-paced comedic performance in Til Death: The Six Wives of Henry VIII, in which the king's dead wives meet in the afterlife; and Camille Cettina brings back Mr. Darcy Dreamboat, her homage to the literary crushes of her childhood.