CURATORS AND GALLERISTS around town agree: Our long recession is slowly but surely making an impact on the local arts community. Admittedly, the negative impact—galleries closing, art sales decreasing, artists leaving town—has been fairly quiet, unfolding in an anti-climactic, if not hushed, way.
Sponsored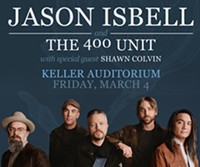 Jason Isbell has established himself as one of the most respected songwriters of his generation. Don't miss Jason Isbell and the 400 Unit, March 4th at Keller Auditorium!
When the Mark Woolley Gallery closed this June, nine months after the market crash of October 2008, Woolley said that he was no longer able to uphold the financial and operational weight of his gallery, with a consolation promise to guest curate at other venues.
Since June, other art spaces have followed with closed doors—Breeze Block, Life + Limb, Monochrome, and Velveteria—not necessarily specifying the economy as the sole reason for their closure, but logically affected by it. And it's not just in shuttered galleries that the recession's effects are being felt: donations and attendance revenues are down at staple art venues. The Portland Art Museum (PAM) has taken a hit. From June of 2008 to June of 2009, cash flow from admissions decreased from $3,083,944 to $2,103,078; cash from contributors, grantors, and members decreased $5.2 million; and overall, PAM's total assets suffered a $14.6 million hit. Clearly, relying on donations and admission revenues is not a stable financial model in our current economy.
Question is, when tried-and-trusted financial models like PAM's can't guarantee steady revenue, and galleries like the Woolley which depend on art sales can't make the rent, what model can be relied upon for art space survival?
Matt Wagner, curator of Chinatown's Compound Gallery, says that multi-function art spaces have the strength to weather the recession, where other financial models may not work: "Compound Gallery does not exclusively depend on art sales to exist. Compound has many different engines. When one is weak the others pick up the slack." This isn't to say that art sales aren't a priority for Wagner, just that Compound's apparel and toy sales can carry them through rougher economic conditions.
But no model is recession proof. Breeze Block Gallery, another multi-function art space (which sold mural supplies and hosted monthly exhibitions), announced in the beginning of December that they'd be closing—abandoning their supplies-and-gallery location, while adopting an appointment-only mural consultancy, and hosting pop-up shows around town. "I used to sell at least half a show every month, if not sell out. Now I'm excited if three pieces sell from a show," says Paige Prendergast, curator and owner of the now-homeless Breeze Block.
It seems that a stable model requires a multi-function space with a slim overhead and financial independence from art sales. Ed Challed, a local artist and custom-furniture carpenter, is starting a gallery space in his home garage (located at SE 46th and Hawthorne)—possibly the most practical and stable approach to the multi-function art space. Challed asks the logical question, "Why pay for a new space if we could just adjust and use space that we were already paying for to facilitate creativity and community?" He adds, "This is not a venture to make money on selling other people's work."
Appendix Project Space has done especially well under this model, and it's not just Challed following the lead—Wee House Garage Gallery (located at 3816 SE Lafayette) is doing the same. So, what can artists and aspiring gallerists hoping to weather the recession take away from this? Put your art space where your money is: your garage, preexisting business location, the sidewalk, wherever—use what you have and think outside the traditional financial models.