IT HAS BEEN four years since Mayor Sam Adams brought up the idea of a citywide plastic bag ban. Come Saturday, October 15, a city council resolution will finally cement the long-awaited plan.
Sponsored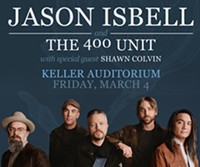 Jason Isbell has established himself as one of the most respected songwriters of his generation. Don't miss Jason Isbell and the 400 Unit, March 4th at Keller Auditorium!
"I think everyone's been thinking, 'Come on, get on with it!' for some time now," says Lisa Libby, the mayor's planning and sustainability director. "It shouldn't come as a surprise. People are on board."
The ban targets grocery stores and general merchandise stores that gross more than $2 million annually. Wrapping up major corporations like Target and Walgreens, the ban's breadth is wide. ["Plastic Problems" News, July 22, 2010] But the city isn't stopping there.
"We're really trying to move the discussion from banning the bag to bringing your own bag," Libby says.
To drive home the point, the Portland Bureau of Planning and Sustainability launched bringyourbagpdx.com to act as a guide during the upcoming transition. The website also includes a form for low-income shoppers to fill out so they can receive a free reusable bag.
While many cities, such as Austin and San Francisco, endured heavy lobbying from the American Chemistry Council—the nation's leading plastic bag proponent—Portland's effort has remained surprisingly unnoticed. But Keith Christman, director of the American Chemistry Council's "plastics division," has publicly called the ban misguided, labeling it as a threat toward the recycling industry.
A bill banning plastic bags across Oregon was shut down in the Oregon Legislature's last session, thanks in large part to heavy lobbying from the American Chemistry Council, and plastics manufacturer Hilex Poly. But, it could come back to life in the Senate next year. State Senators Mark Hass and Jackie Dingfelder are behind the bill, along with advocacy group Oregon Surfrider Foundation and other environmental activists.
Surfrider's Staj Pace says that while achieving the Portland ban is a great success, the fight's not over.
"We won't just walk away now," Pace says. "The more towns we can get to ban the bag, the closer we get toward a statewide ban."
Pace says that an all-Oregon ban would ultimately be easier for grocery infrastructure—an idea that Northwest Grocery Association President Joe Gilliam has advocated. With an overarching ban, chain stores could simply cut out plastic bag shipments, rather than differentiate between bag-carrying stores and bag-banned stores.
Libby echoes Surfrider's ultimate goal. "When we first brought up the idea of a city ban, there was a sense that statewide action was preferred," she says. "We're hoping that this will be the catalyst."'