CLAUDIA MEZA has always been affected by sound. "Even as a child I was very sensitive to sound, way more than anything else. I would have a fit if things were too loud," she says. "I totally outgrew all that, but still, if something's too overwhelming aurally, it really fucks with me and I can't concentrate."
Sponsored
Sketch comedy troupes from all over N. America descend on The Siren Theater for 3 glorious nights.
Meza's band Stay Calm has explored a wide range of the possibilities of sound, including variations on and deviations from its initial MO of "a hiphop My Bloody Valentine," as Meza puts it. The first auditory glimpses of Stay Calm, which emerged via a video on Into the Woods last year, sounded a lot like Explode into Colors, the band Meza walked away from in the summer of 2010. That band—consisting of Meza on her distinctive, growling baritone guitar, drummer Lisa Schonberg, and multi-instrumentalist Heather Treadway—vaulted to the front of the Portland music scene in a matter of months by way of boisterous, trance-inducing rhythms that bore no easy comparison. With an eight-song repertoire, the group garnered widespread acclaim (including a mention in the New York Times) but before they released a full-length, it was over.
"I know that the ladies wanted to continue, and I would have continued had the situation been a little different," says Meza, speaking candidly and fondly of the band that she says she outgrew. "We were at a point where they wanted it to be way more collaborative than it was, and I was down with that, but I think I'm very impatient, and the process of them learning how to write songs was, like, I just couldn't sit around and wait for it. And then of course, when you have more egos into play—it wasn't that simple, of course—but I just got to where I was just like, 'I don't really need this.' I don't need two people to be constantly bummed at me. And I don't need to be constantly bummed at two people," she says. "No matter what, they're amazing—they're totally amazing geniuses and they'll do whatever they want. More and more, I was just like, 'They're right, I do have too much control. So maybe I should do my own thing.' Like, maybe I shouldn't be in a band right now. They're right, I'm right; we're both right."
Meza's friend Zac Pennington of Parenthetical Girls (and a former music editor of the Mercury) would stop by her house periodically after the breakup. "I got really depressed after I left Explode into Colors—even though it was my choice," she says. "It's like breaking up with someone, because you're like, 'This isn't good for either of us,' but you're still so sad because you wanted it to work out, obviously. And then you're like, 'What did I do wrong?' You know? So I was really bummed. And he would come over, because we lived pretty close, and he would just be like, 'So, what you working on? Want to write a song?' If it weren't for Zac, I probably would not have continued writing pop songs. If anything, he pushed me more toward pop, because he's so poppy. He really did influence a lot of where I went next."
Meza, Pennington, and former 31Knots/Panther drummer Joe Kelly laid the groundwork for Stay Calm, recording a pair of tracks at the Marriage Records studio—the coolly lovely "I Couldn't Sleep" and the red-hot "Let Me Clear My Throat"—which are now available as the digital Fall in Love/Break Up 7-inch on Bandcamp. Due to other obligations, Pennington and Kelly stepped aside; the group now consists of Meza, keyboardist Angela McIlvain, and drummer Ben Tyler (formerly of Experimental Dental School), and boasts a larger repertoire than Explode into Colors ever did.
The name is almost like a mantra, Meza says. "'Stay Calm' is an Explode into Colors joke," she explains. "At band practice, the level of urgency would always get, like—we'd call it future trippin'. So it would all come out at band practice, and even though I would laugh and it was funny, I would always be like, 'Hey guys, stay calm.' And so they would joke that they were gonna get a shirt that just said, 'Stay calm.'
"The front would say, 'Stay calm,' and the back would say, 'Don't hit that cymbal,'" Meza laughs.
Sponsored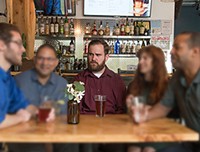 Adults aged 18-35 with good hearing will be paid for their time. Located at the Portland VA Medical Center