IN THE YEARS since we first spoke she's made a fan out of Oprah, while her band propped up Jay-Z and made Amy Winehouse famous. Lou Reed suggested they tour, but she opted for a role alongside Denzel instead. And while it's been a long time coming, fame has hasn't changed Sharon Jones.
"I'm cleaning fish right now," Jones explains, having caught a few smallmouth bass earlier in the day at Lake Hopatcong in nearby New Jersey. Half consumed with the filet, she continues, "I love fishing—all my life. That's something you should know if you've been around 'cause we do that song 'Fish in the Dish' on the road."
Jones is at her home in Queens. She lives in the projects with her mother, and later the two will presumably share this meal. "Hopefully by the end of this year we'll be out of here," Jones says. "At least I'll get her somewhere and then I can take care of myself. I can take care of me once I take care of my mom." She appears destined to do both.
"Everything is changing," Jones explains. "We're doing bigger clubs." She and the Dap-Kings recently sold out two nights at the Apollo. It's a church of sorts, one of the few remaining spiritual centers of soul music. It's haunted; James Brown lives there. And it's a long way from where Jones once was—a prison guard at Rikers Island, a wedding singer, and a backup vocalist told by record execs that she was "too fat" and "too black" to make it on her own. Despite having proven them wrong at age 54, Jones says she is rarely awed by her career.
"I'm not surprised, because this didn't happen overnight," she explains. "You know what I mean? Everyone is like, 'Oooh,'" Jones feigns the hangers-on dotting over her good fortune and cuts them off—"No! I've spent that last 15 years trying to make something."
What Jones and the Dap-Kings have made is a soulful sound loaded with devastating snap and consistency. Whether it's a small club or outdoor amphitheater, the Dap-Kings are this generation's equivalent of the Funk Brothers or Booker T. and the MG's—they always deliver.
At times bassist and engineer Gabriel Roth's affinity for analog equipment overshadows the more important truth: The band is fucking phenomenal. In a recent interview with The Onion's AV Club, Jones herself put it best: "It's not even the equipment. It's the musicians. You could put different musicians in our studio, and if they ain't got it, they don't have it. No matter what."
And while the records, including the recent I Learned the Hard Way, sound terrific, nothing compares to the punch of the band in person, when Jones' voice will make the hairs on the back of your neck stand at attention.
"I'm not a young person out there trying to sing soul, you know, trying to imitate someone," she explains. "I just sing and it comes out like that."
At times the storied come-up of Jones and the Dap-Kings has overshadowed the honesty, directness, and quality of their art, but things are beginning to change. Where they are now is where they're meant to be: on the big stage.
Jones acts as if she knew all along that the doubters would eventually peel away. With a bit of a laugh she says, "Now they know the truth."
Sponsored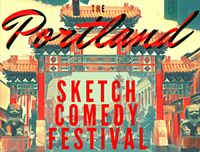 Sketch comedy troupes from all over N. America descend on The Siren Theater for 3 glorious nights.