Lunacy Stageworks is working with a setup that absolutely screams "community theater." At the Sellwood Masonic Lodge, the audience sits in folding chairs, and sightlines aren't great. The stage is smack dab in the middle of what feels like a ballroom, whose high ceiling yawns over the production. These details make what Lunacy has actually accomplished all the more remarkable: Sight Unseen is a sophisticated script, which presupposes of its audience both intelligence and an attention span, and this relatively new company gives it a thorough, satisfying treatment.
Donald Margulies' script juxtaposes pointed questions about the value of art against a backdrop of uneasy and imperfect relationships. Set in the 1980s, the script's central character is a successful painter, Jonathan (Stephan Henry), who's visiting London for a retrospective of his work. While in England, he visits an old lover, Patricia (Hadley Boyd), an ex-pat living in the countryside with her husband, Nick (Joe Bolenbaugh). Jonathan is all smugness and smarm as he dodges Nick's questions about just how much money he actually makes off his paintings.
Later scenes cut to Jonathan's art opening, where a young German journalist (Bridie Harrington) interviews him. Through his dual interrogation by Nick and the journalist, Jonathan's ideas about his work are revealed, and they don't reflect well on him: He cheerfully profits off of his art-celeb status while refusing to acknowledge that "celeb," rather than "art," is the key element of his success (as evidenced by buyers' willingness to purchase paintings "sight unseen"). The conversation between Jonathan and the journalist is both fascinating and uncompromising—here, "art for art's sake" just isn't good enough.
Playwright Margulies presents the audience with a handful of ways of excavating and understanding the past: Clues are found in photographs, old relationships are mined for the details they contained, paintings refuse to reveal their meanings, and entire civilizations are physically unearthed (Patricia and Nick are archeologists). It's a dense and heady script, and under the brisk direction of Laura Lundy-Paine, Lunacy Stageworks renders the material accessible. (A bit too accessible, at times—an unwelcome note of melodrama creeps in around the upper registers.) But if this is what community theater looks like? More, please.
Sponsored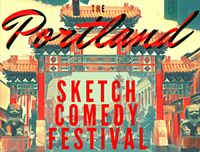 Sketch comedy troupes from all over N. America descend on The Siren Theater for 3 glorious nights.