If you know of Tony Millionaire, you probably know him for his comic strip Maakies. And if you know of Maakies, it likely comes with associations of an inebriate, suicidal crow, Drinky, and his Irish monkey drinking buddy, Uncle Gabby; plus nautical environments and blank eyes and French alligator antagonists. These are the things Millionaire is best known for.
Sponsored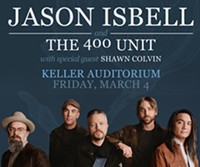 Jason Isbell has established himself as one of the most respected songwriters of his generation. Don't miss Jason Isbell and the 400 Unit, March 4th at Keller Auditorium!
But it's often an artist's lesser-known work that is their most important—that provides the bread and butter to sustain a person while their projects of passion are drafted on bar napkins—and this is surely the case with Millionaire. The illustrator's commercial and editorial drawings, while quieter than his comics, have made it possible to live by his trade. Perhaps you've encountered Millionaire's editorial illustrations in publications like The Believer or the New York Times. Perhaps you haven't. Regardless, these illustration gigs are mined in the artist's new book, 500 Portraits, composed of portraits penned for editorial illustration jobs. (Originals from 500 Portraits are currently on view at Floating World Comics.)
"Making a living off comics is almost impossible," says Millionaire, musing on the illustration work that's kept him fed through the years.
"The first drawings I ever did for money were when I was in college" at the Massachusetts College of Art and Design, back in the mid '70s. "I really had no idea what I was going to do for a job, so I went to the library and did a drawing of a house, and I walked around in fancy neighborhoods in Boston and knocked on doors and right away got a job drawing someone's house," explains Millionaire. "I'd hold up this drawing and say, 'You want a drawing of your house?'"
"Then I realized I was kinda set for life: I had this part-time or full-time job anytime I wanted." Millionaire says it was drawing houses (along with the occasional editorial illustration job) that sustained him for the next 20 years, before Maakies hit the pages of the New York Press in 1994. Despite the occasional difficult client—like one woman who received a drawing of her tea house with "fuck you" spelled in lily pads on a pond—Millionaire went all over the globe with the skill, even selling "counterfeits of my own drawing... of the Roman Forum" to unknowing American tourists while living in Italy in the '80s.
Moreover, the illustration work didn't stop when Maakies hit the streets. Millionaire says it was only after the comic took off that he began taking on portrait jobs in earnest (producing the work found in 500 Portraits). "A guy named Marc Miller hired me to draw portraits for a map of Queens and Harlem," says Millionaire. "They were jazz maps, so I'd draw all these jazz musicians that lived in Queens and Harlem, and then I started doing portraits."
These early portraits of jazz musicians can be found in Millionaire's new book, alongside a unique set of personalities, both widely revered and obscure. The faces therein span everyone from famed Japanese author Haruki Murakami to comedian Louis C.K., Trailer Park Boy Mike "Bubbles" Smith to conceptual artist John Baldessari. Drinky Crow shows up, as does Millionaire himself, plus politicians, poets, and movie stars.
When all is said and done, 500 Portraits goes to show that while drawing comics requires a whole lot of hard work, drawing comics professionally can require an equal measure of man hours outside the immediate chosen field. It's a "don't quit your day job" situation that aspiring comics artists might want to keep in mind.