THERE'S A STAND-UP comedy showcase in every corner of Portland these days, from Hawthorne Hideaway (second-to-last Thursdays) to the Tonic (Wednesdays) to the Know (last Thursdays). New showcases aren't even news at this point—just another entry in the ever-growing "Comedy/Improv" section of the Mercury's arts section.
But when a show comes along that promises to fuck with the showcase formula a bit, and it's hosted and organized by Portland's newly crowned Funniest Person (as determined by a weeks-long comedy contest at Helium)—that's news. Stand-up/very funny Funniest Person Nathan Brannon has just announced a new monthly comedy show called the Hamster Village, which promises to marry a range of comedic approaches with video sketches and panel discussions. "There are many different forms of comedy, and I would like to show how they can work together," explains Brannon. "I want the comedians to show what they can do, not only with stand-up but with sketches and improv.
"I called it 'the Hamster Village' partly because, depending on what pieces you add, you can control the direction of the tunnels," he continues, explaining that audience members are encouraged to bring local news headlines to the show for panel members to discuss.
If you've spent any time with Marc Maron's WTF podcast, you've maybe gotten the idea that all comedians are bitter, jealous people. And sure, some of 'em are—but Brannon is one of a number of local comedians who are actively trying to help Portland's comedy scene develop (Whitney Streed comes immediately to mind as another example). "I want this show to be a success for the comedians that are a part of it," Brannon says. "I remember what it was like when I was a young comedian, and all of the older comedians that gave me opportunities. They helped me to become the comedian I am today, and if I can do that for someone else, I will."
That's well and good for comedians, but what about the audience? Brannon notes that he doesn't want the audience to feel as though they're at a movie, passively watching the screen. "If anything, I'd want them to feel like they're in a movie," he says. "When they leave the club, I want them to feel like they have contributed to the success of the show." All members of the same Hamster Village.
Sponsored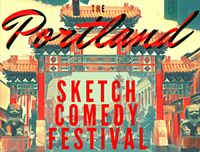 Sketch comedy troupes from all over N. America descend on The Siren Theater for 3 glorious nights.