HOLD YOUR BREATH: When recreational cannabis officially becomes legal in Oregon this summer, it's going to mean potentially huge changes. Hopefully the state coffers will be flooded, new jobs will be created, and police and prison resources can be diverted to keeping us safe instead of sober.
Sponsored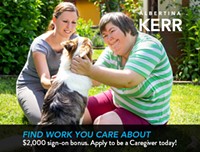 Become an Albertina Kerr Caregiver & help people experiencing intellectual and developmental disabilities.
Even if smoking pot isn't a big part of your life, the changes are going to affect you. And if you do use cannabis, the developments are going to come fast and furious. Getting stoned has come a long way from the days of roach clips and bell bottoms, and we here at the Mercury are here to help you navigate this new world of options.
In this issue we explore cannabis mysteries like where vape oil comes from, what "dabs" do, and where we currently stand as the legislation that will shape this new industry is being written. We've also got a few ideas about how to spend your future legally stoned moments, like a super easy and fun card game, and some of the best stoner records you may have never heard of. Need help choosing a vaporizer? We're on it.
And, we want to know about you! This issue also contains our first-ever cannabis survey, where we invite you to weigh in on all the ways Portland tokes. We'll publish those results in time for the July 1 rollout, so we can all learn something about our neighbors (that we didn't already smell drifting over the fence). Come explore the increasingly complicated world of weed with us, and never forget to puff, puff, pass.
---
More Cannabis Issue Articles:
The Mercury Stoner Game Corner
The Mercury Cannabis Directory