CALLING ALL sex lovers: My name is Bri Pruett (Portland darling and author of the popular Mercury sex blog column, Let's Do It by Bri Pruett), I'm honored once again to author this year's Portland Mercury Sex Survey. If you've never filled out a Mercury Sex Survey before, rest assured that it's completely anonymous. (Psst! I wish it wasn't. I'd love to find out which of my friends is really into pony play, but sadly, the whole operation is shrouded in secrecy—so tell the truth, and let your freak flag fly!) Simply fill out the form below by SUNDAY, NOVEMBER 22. You can fill it out alone or with your partner, but don't forget to send me a thank you note if you bang afterward. We'll have all the results for you in our WEDNESDAY, DECEMBER 2, ISSUE—so have fun, be honest, and LET'S GET DOWN AND DIRTY!
Fill Out This Form >>>
Sponsored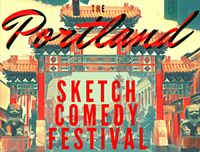 Sketch comedy troupes from all over N. America descend on The Siren Theater for 3 glorious nights.