Comics creators Jamie S. Rich and Joëlle Jones have a fascinating relationship. The two are longtime friends, collaborators, and karaoke partners—they've maintained a working relationship for years, most notably producing 2006's wistful 12 Reasons Why I Love Her. It's a partnership that, thus far, has weathered diverging career pressures: Rich is a writer and a former editor at Oni and Dark Horse who writes comics, prose, and movie reviews for DVD Talk. Jones is an up-and-coming artist who's working increasingly for mainstream publishers—she's drawing two upcoming issues of DC Comics' Madame Xanadu, as well as a one-shot for Dark Horse that's based on the popular web series Dr. Horrible's Sing-Along Blog (drhorrible.com).
The most recent collaboration from the two was just released in a gorgeous hardcover from Oni Press. You Have Killed Me is a graphic novel in the hyper-stylized tradition of film noir. It represents a departure for the two—particularly for Rich, who's best known for writing pop culture-drenched romance comics crammed with references to obscure bands. There are no references in You Have Killed Me—the book's title is a Morrissey reference, sure, but that's where it stops, and the storyline is pure noir. According to him, it was Jones' idea to collaborate on something darker.
"I literally thought, and correctly so, that the moment people saw 12 Reasons she would become in demand [as an artist], so I just wanted to shackle her down as quickly as I could," Rich tells me, as the three of us huddle around drinks and my tape recorder in a noisy Northwest bar. "It was her idea to do this genre. It didn't take much arm twisting for me, even though I was a little scared of it—I'm a huge film noir fan, so I was like, well, if I can work with you, I will try to do this."
"I'm not really a big fan of the romance genre," Jones says dryly. "I wanted to do something to flex my muscles, try something new—I'd already just done 150 pages of romance. I didn't want to do a repeat of the same thing. I need a lot more work on backgrounds and stuff, and this was my introduction to setting the mood with the scene. I was trying to push myself. This was a good test ground."
It doesn't look like a test ground: You Have Killed Me is a clear statement of Jones' talent and versatility. Meticulously detailed shading, assertive contrasts, and period-perfect costuming create a brooding, atmospheric realization of Rich's script. The book's world is shadowy and cinematic, as a hapless detective follows the trail of a vanished woman into an underworld of gambling and organized crime. It's a classic whodunit that drives home a point not too far removed from the achey-heartbreak of some of Rich's previous work: It's a foolish man that puts too much faith in a beautiful woman.
"It was a great collaboration," Rich says. "Sometimes your collaborator sees things in you that you don't necessarily see in yourself. And I feel like she correctly identified things about my work that were different than what I was perceived as, in that I was, partially by my own fault, perceived as writing romance, and that she saw something beyond that genre in my work."
The two will be signing copies of You Have Killed Me on Thursday, August 6, at 6 pm at Floating World Comics. The duo's next collaboration is a high-school witch story called Spell Checkers, due out from Oni next year.
Sponsored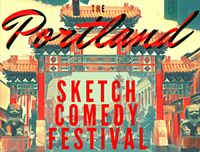 Sketch comedy troupes from all over N. America descend on The Siren Theater for 3 glorious nights.