THE CREATION of a new theater company is cause for cautious optimism at best—it's not uncommon for companies to flare up, produce a show or two, and then disappear forever. In the year and a half since Portland Playhouse launched, though, they've made it clear they plan to stick around: they've already made improvements to both the lighting and the seating in the converted church they call home, and though they hadn't announced the lineup for their 2010/2011 season as of last weekend, they were already selling subscriptions.
Sponsored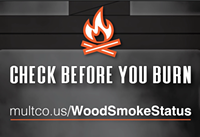 Having clean air means reducing wood smoke. Check before your burn from October 1-March 1.
None of this would matter if the work weren't any good—but increasingly it is. Portland Playhouse's current production of Radio Golf, the 10th and final play in August Wilson's Pittsburgh cycle, is easily their most polished show to date. Radio Golf was produced in partnership with the new African American company Base Roots, a pairing that resulted in a better-than-average production for both companies. (Of course, it should be noted that BaseRoots has only put on one previous show, the dismal Rocket Man.)
Radio Golf is at once engagingly written and frustratingly formulaic, but its boilerplate storyline does benefit from some coincidentally timely plot points. The show's protagonist is Harmond Wilks (Lawrence E. Street), a developer who's running for mayor, and who takes as a campaign point his outrage over the police shooting of an unarmed black man. Harmond's business partner, Roosevelt (BaseRoots founder Bobby Bermea), is an obsessive golfer who idolizes Tiger Woods—there's a photo of Woods on the wall of their office.
Harmond and Roosevelt are working together to redevelop a run-down area of Pittsburgh, but their plan hits a snag when it's discovered that one of the houses slated for demolition was acquired illegally, and is still technically the possession of an aging neighborhood holdout, Elder Joseph Barlow (Kevin E. Jones). "I think it's going to be a conflict between money and doing what's right," one audience member speculated during intermission.
Why yes, it sure was, and this gets at the Achilles' heel of both Portland Playhouse and this production. Portland Playhouse has an institutional tendency to produce straightforward, conventional work—perhaps targeting older audiences who are more likely to buy season subscriptions. The financial imperatives are undeniable, but it's frustrating to see such a young, energetic company producing work that feels as though it's catering to my parents instead of me. Their experiments with edgier scripts have been exciting: the vibrant Willow Jade made its fully staged premiere at Portland Playhouse in January, and while I didn't see their production of Adam Rapp's Bingo with the Indians, that script, too, is markedly more interesting than most others they've produced.
It could be argued, though, that pairing with BaseRoots for Radio Golf represents innovation of a different sort. There aren't nearly enough opportunities for Portland's black actors to showcase their talents, and this production makes very clear that there is talent here to showcase. Kevin E. Jones and Victor Mack deserve to be as well known among Portland theatergoers as Ebbe Roe Smith and Tim True, and shows like this help ensure that they will be.
As of press time, Portland Playhouse's next season still hasn't been announced. They're a young company still defining their identity among Portland theatergoers—here's hoping for a third season that takes even more risks than their second one did.