PORTLAND APPARENTLY loves Sam Shepard. In April, Fool For Love was at the Backdoor Theater; Profile's 2014 season is going to be all Shepard; and currently, Our Shoes Are Red/The Performance Lab is staging True West.
Sponsored
Sketch comedy troupes from all over N. America descend on The Siren Theater for 3 glorious nights.
Why is Shepard big in Portland? His broken, vanishing "West" is usually the desert—in True West, it's the waning wild of the Mojave as it abuts the suburbs of Los Angeles—not our broken, vanishing West of (de)forested Coastal Range, snowpark volcanoes, and dirty blue rivers. But in True West, Shepard questions whether "Western" ever means anything, or if it only means something to us as children, and we grow away from it as we do from our families.
The play takes place in a house in suburban California. Austin, a writer, is staying there, taking care of his mother's plants (she's in Alaska) and holding meetings with Saul, a movie producer. Then Austin's brother Lee shows up, harbinger of chaos and booze.
The play is about these two brothers, one an adjusted, seemingly successful writer, the other a damaged, seemingly successful criminal, as they reluctantly collaborate to write a modern Western. The only other characters are Saul and their mother. Their absent, alcoholic father, living in the desert, is a weight on every scene.
Matthew DiBiasio's Lee is a seething, manic mess; searing, wild-eyed danger turns his every line into a threat. DiBiasio sometimes overdelivers in that mania, but his vacillation from explosive violence to quiet rage is usually right on point. He's most credible in eerily long drunken pauses during which it's unclear whether he's lost in thought or lost from thought.
Kenneth Baldino shows impressive range as Austin. In the first act, Austin is level and grounded—possibly by pure fear of his brother—with a shaky steadiness, always leaning toward a confrontation he lacks the courage to enter. After the intermission, a lot of Lee has infected Austin: He's drunk, on the floor, making toast.
It's director Devon Allen's subtle choices that hold this production together. If the first act didn't sound like the coffee machine dripping coffee; if the second act didn't smell like the dozen toasters toasting toast; if the actors weren't in character redecorating between scenes, if the space was larger and the audience less intimate with the violence and comedy, the play would be less real, the jokes and scares too separate, the shadow of family too dim.
Sponsored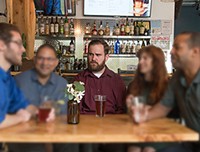 Adults aged 18-35 with good hearing will be paid for their time. Located at the Portland VA Medical Center