REPETITION: It's repetitive! And it's the number one cause of "Refusing to Exercise Syndrome." Getting your body in motion doesn't have to mean joining a drone gym to monotonously heft weights or take endless runs to nowhere on a treadmill. Exercise should reflect your interests and personality—which is why the Mercury is proud to present "The World of Alterna-Fitness: Workouts and Regimens Designed for the Easily Bored."
Inside you'll find all sorts of fitness ideas that veer proudly into left field, yet still obtain the healthy lifestyle you so desire. Love to RAWK? Then you should definitely check out our "Air Guitar Workout" article which pumps high-octane rock and movements into scientifically established exercise routines. Are you a fair-weather hiker? Our expert provides the most awesome WINTER hikes, where you can not only beat the crowds, but encounter an entirely different world. Perhaps you're a lapsed runner. Get back into the groove with this emotionally grounded treatise on "Training for a Marathon—for Normal People." How do food critics get into shape when their job is chowing down on rich, fatty meals? Our own Andrea Damewood investigates! Plus you'll find money-saving exercise routines such as our "Vintage VHS Workout," a look into the necessity of doing Kegels, a talk with a biomechanist about moving more and exercising less, and it wouldn't be Portland without at least one article on "Cat Yoga."
Don't let your individuality and short attention span keep you from being healthy! Find a routine you love, and the good-looking, healthy results will follow.
---
More Fitness Issue Articles:
The World of Alterna-Fitness!
Air Guitar: The Dumbest Workout You Should Be Doing
A Food Critic's Quest for Fitness Glory
Sweat, Rewind, Repeat
Tips for Winter Hiking In and Around Portland
Exercise Is Not Going to Fix Your Body
Kegels: Maybe Only Do 'Em if You Want! (Or Never!)
How to Run a Marathon Without Becoming a Fitness Bro
The Purrrfection of Cat Yoga
Sponsored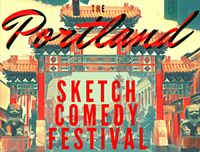 Sketch comedy troupes from all over N. America descend on The Siren Theater for 3 glorious nights.