2012 WAS AN EVENTFUL YEAR for the Portland arts community—it included high-level turnover at major organizations, a voter-approved arts tax, and more than a few moments in the national spotlight. Rather than try to compile a list of the "best" or "most significant" things that 2012 brought, here's an entirely arbitrary list of some of our personal highlights from the last year.
Sponsored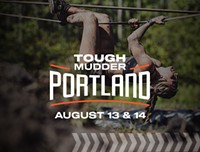 Lock in your summer adventure, Portland. Join us for world famous obstacles over a 5K or 10K distance.
_________________________________________________________________________________________
1. In the 2012 election, Portlanders approved a $35-per-person arts tax to restore arts education to Portland Public Schools, as well as provide funding to Portland's arts organizations. It was a measure strongly endorsed by departing Mayor Sam Adams, whose support for the arts was a hallmark of his administration.
2. It was a huge year for Portland author Cheryl Strayed: Her best-selling memoir Wild: From Lost to Found on the Pacific Crest Trail, about hiking the Pacific Crest Trail solo, became the first book in Oprah's new digital book club. Strayed also came out as the woman behind therumpus.com's wildly popular online advice column Dear Sugar, and released a collection of those columns titled Tiny Beautiful Things.
3. Li'l Portland was represented at one of the biggest fashion events in the world, when the band Chromatics was invited to play Karl Lagerfeld's Chanel runway show during Paris Fashion Week.
4. Surprising many in the dance community, Oregon Ballet Theatre's Christopher Stowell announced his resignation after nine years as artistic director, stating that he is "not the best candidate" to lead the organization under the "new business model" being adopted by the OBT Board of Trustees. His resignation is effective as of the end of December.
5. For the fourth year of their five-year mission, popular summer-theater staple Trek in the Park moved to a larger venue: St Johns' Cathedral Park. But just as in years past at the smaller Woodlawn Park, the show played to packed crowds every weekend.
6. Portland's art galleries made a splash on the national scene when the Wall Street Journal wrote a lengthy piece about our alternative art spaces, pointing to venues like Recess Gallery and FalseFront and suggesting that Portland might be poised to become a "new art capital."
7. Kickstarter emerged as a powerful force in the local publishing scene, particularly for comics creators, who raised nearly $150,000 for projects including a collection of essays and comics from political cartoonist Matt Bors and an autobiographical comic from creator Lucy Bellwood. 2012 also saw the Kickstarter-funded establishment of new comics festival the Projects, which invited international comics creators to Portland for a fun, hands-on festival at the Independent Publishing Resource Center's new location on SE Division. (Oh yeah: The IPRC moved to SE Division!)
8. Social Malpractice Publishing got national attention when the fan-fic collection Fucking James Franco (a collection by writers imagining doing just that) caught the attention of Franco himself, prompting a back-and-forth that went viral.
9. After 25 years at the helm of Artists Repertory Theatre, Artistic Director Allen Nause announced his retirement from the theater, along with his longtime associate artistic director, Jon Kretzu. Thirty-eight-year-old Dámaso Rodriguez is scheduled to take the reins in 2013, ushering in a new creative era at one of Portland's most successful long-standing arts organizations.
10. Haters gonna hate, but Portlandia is renewed for a third season anyway.
11. Wordstock, Portland's annual book fair, got a new festival director after the resignation of Greg Netzer—and under the purview of new Festival Director Katie Merritt, Wordstock's showroom floor saw the addition of a sex-themed "red chair district" (a reference to the festival's red chair logo).
BONUS: Portland's stand-up comedy scene continues to thrive. Let's play Find the Ian Karmel!