ANDY WOOD WAS BACKSTAGE after David Cross' set at the Newmark Theatre. Cross was mellow, as uninterested in the chatter as he was the bottle of Patrón in the dressing room. Wood's friend Todd Glass, who opened the show, introduced him to the headliner. Immediately Cross perked up.
Sponsored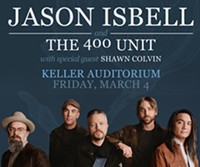 Jason Isbell has established himself as one of the most respected songwriters of his generation. Don't miss Jason Isbell and the 400 Unit, March 4th at Keller Auditorium!
"You're the guy who does the comedy fest?" said Cross. "I've heard a lot of good things."
Wood, entrepreneur that he is, didn't miss a beat: "Well, we'd love to have you." Cross was interested, but careful not to commit (one never knows when one might be filming Alvin and the Chipmunks 3....)
The word has gotten out. Portland is a fertile ground, ready for quality standup. Glass remembered his first experience playing here: "When I was at Bridgetown, I was like, 'Holy fuck! The audience there gets it.'" Buoyed by the festival experience, Glass—like a number of other nationally known comedians—returned for a one-off show. Bridgetown (or should we say, Andy Wood) is changing Portland comedy.
Wood has been expanding Bridgetown's brand by promoting shows apart from the festival. These shows are a boon for local comedians: Opening slots afford much-needed opportunities to perform before new audiences and learn from professional, touring comedians. Wood even bounced onto the national radar (he was hired to help organize the Bentzen Ball comedy festival in Washington, DC). And though Wood is responsible for the lion's share of Portland's comedy growth, the year has seen other positive developments.
The new Curious Comedy Theater, whose schedule leans more heavily on improv and comic troupes than standup, looks to be a survivor. And the Clinton Street Theater has proven to be a fine medium-sized venue.
Local comedy open mic nights are vibrant as ever, and a number of regulars appear ready to take the next step. Highlights include Don Frost, whose stream-of-consciousness, vein-bursting rants continually tear up audiences with twisted joy. Young avant-garde comedian Phil Schallberger is coming into his own, cultivating an Andy Kaufman-esque meta weirdness. And hilarious slacker Richard Bain recently had a short broadcast on Conan O'Brien.
While it's nice to see the local comedy scene gaining momentum, all is not rosy in the Rose City. All too often seats are empty. Talent is going unnoticed. It doesn't make sense—we all like to laugh. We go to concerts and movies. Why not comedy? If you've never been—or a bad show scared you away—take a chance in the coming year. There's nothing quite like it.