THE ZOMBIES, true to their name, have discovered a surprising and enduring afterlife. After recording their magnum opus, Odessey and Oracle, the group broke up in late 1967 to commercial indifference. But a resurrection was inevitable, and unlike the creatures from which the British beat group took their name, it's been far from grisly or terrifying.
Sponsored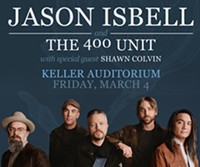 Jason Isbell has established himself as one of the most respected songwriters of his generation. Don't miss Jason Isbell and the 400 Unit, March 4th at Keller Auditorium!
Founding members Colin Blunstone (vocals) and Rod Argent (keyboards, vocals) reteamed in recent years and have plundered the Zombies' rich history—including singles like "She's Not There," "Tell Her No," and the magnificent Odessey album—along with more recent material. The current incarnation of the Zombies even have a new album, Still Got That Hunger, which updates the Zombies' baroque pop with surprising muscle.
Echoes from the past are inevitable: Still Got That Hunger's album cover was drawn by Terry Quirk, who did the famous psychedelic cover of Odessey, and the album contains a remake of 1965's "I Want You Back Again." Apart from that, however, Still Got That Hunger is very much looking in a forward direction. "The album, even though it has diverse influences on it, is pretty cohesive," says Argent, "and maybe that's one of the reasons—the material was written, developed, and rehearsed all within the last few months."
That said, some of the inspiration for Argent's new compositions originated in the '70s. "Moving On" found its genesis in a couplet Argent wrote after Elvis Presley died. "His death hit me like a steam hammer along with, I'm sure, many other people of my generation," Argent says. "I couldn't believe it. It just made me feel rudderless for a little while. So I wrote two lines, and I thought, 'Where do I go from here?' When we were putting the songs together for this album, for some reason I've never forgotten those first couple of lines. And I adapted them and it wasn't about Elvis anymore. It was more about moving past something that's traumatic and putting things back together again."
Another song, "Little One," is similarly rooted in some lines Argent wrote when his daughter was born. But the completed song is actually about the birth of his grandchild—both he and Blunstone are 70 now, although Still Got That Hunger doesn't contain any cobwebs or signs of old age. "We've just been very lucky," Argent says. "We have managed so far to survive and we've still got all our chops. Colin's voice is as good as it's ever been, and I can still sing as high as I ever did. Of course, there's a huge amount of hard work. Colin, when we're on the road, does an hour's vocal practice every day. And that's the way you keep your chops in shape. When you're 18, a lot of that is more naturally in shape, but I think he's developed his voice as well. He's still got his full range, but his voice is stronger than it ever was. And all those vocals on the new album were done live."
For this American tour, the Zombies will be performing all of Odessey and Oracle live, something they've only attempted a few times before, at a handful of shows in the UK in 2008 and 2009. (The original group broke up before it had a chance to tour the 1968 album.)
"The American management came over when we did the UK version and said it was a dream of theirs to mount it in America," Argent says. "But logistically and economically, there were all sorts of problems. It's a much bigger operation to put it on than our normal set because it was always a given that we wanted to do it by reproducing every single note that was on the original album. Things like 'Hung Up on a Dream,' 'Brief Candles,' 'Changes'—these all require extra harmonies which we overdubbed at the time, and extra keyboard parts which I did on the mellotron. But because things have gone very well for what Colin and I have been doing with the current incarnation of the Zombies over the past few years, we have got to the point where we can mount this economically."
At this week's show in Portland, the 2015 lineup of the Zombies will play a standard set, after which original members Hugh Grundy (drums) and Chris White (bass, vocals, and writer of many Zombies songs), along with some additional musicians, will join the group for a full run-through of Odessey. The expanded ensemble will be able to perform its more complex arrangements, with mellotron parts, additional voices, and an actual pump organ for "Butcher's Tale." In many ways, it's the closing of a circle that was left unfinished by the Zombies' premature end.
"We never had any negative feelings about it," says Argent of Odessey's initial failure. "In fact, strangely enough, when it came out it was very well reviewed—it just didn't sell anywhere! It was only about 12 years later when people like Paul Weller started to talk about it and introduce it to their fans, and succeeding waves of people doing that, that it really gathered a momentum of its own. It sells more now every year than it did when it first came out. It just feels really nice that younger generations of people are getting turned on to it by young bands that they like, and that seems to be a continual process. That feels like a really lovely thing to be happening."