So-called "political" comedians are just like any others. Some, like Bill Maher and Mark Russell, are dogmatic or laughably awful. Others, like Jon Stewart and The Daily Show apparatus, are simply tremendous. The jokes—not the politics—must win the day.
"Good comedy is honest and it's blunt and it speaks to people in a way they feel there's some truth in," says Hari Kondabolu, one-third of the nationally touring comedy show Laughter Against the Machine. "Political comedy," according to Kondabolu, might not be the best label for himself and tourmates Nato Green and W. Kamau Bell. "Why should that be separate from comedy in general?"
"We use that word just because we don't have a [better] word for it," he says. "We don't talk so much about Democrats and Republicans." What Kondabolu and tourmates do talk about are issues that affect our lives, identities, and hopefully our understanding of the world.
Laughter Against the Machine began in the upswell of the 2008 election, but Kondabolu says that no specific issues galvanized the tour's current swing. "It frustrates me that there's only room for this when something happens," he says, referring to events like the war in Afghanistan or the earthquake in Haiti. "You don't need an election to have political art."
Like President Obama (who also knows how to tell a joke), Kondabolu and Green have backgrounds in community organizing. Green, who studied at Reed College, lives in San Francisco, as does Bell. The SF Weekly has awarded best comedian of the year to both Green and Bell.
Kondabolu, who holds a master's in human rights from the London School of Economics and Political Science, cut his teeth organizing immigrants in Seattle, and says his entry into comedy wasn't necessarily to find a soapbox.
"When I was in Seattle, the days were hard," Kondabolu remembers. "Comedy really saved me. There's nothing that can really go wrong." Of course, ideas about immigration and identity—his passion and expertise—entered Kondabolu's set.
"All three of us have a philosophy like Bill Hicks," Kondabolu says of himself, Green, and Bell. "Make the art you want to make and speak honestly. You'll get people that get it and if you don't, you still need to be honest."
Sponsored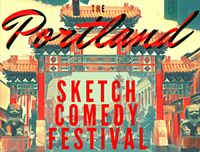 Sketch comedy troupes from all over N. America descend on The Siren Theater for 3 glorious nights.