Local publisher Tin House is killing it lately, with two new fiction titles as well as a collection of writers' essays based on the annual Tin House Summer Writers workshop program. (We're also looking forward to artist Zak Smith's memoir of his time in the LA porn industry, We Did Porn, which hits the streets in July.) Here's a quick roundup of their most recent offerings.
Sponsored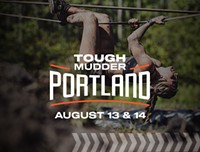 Lock in your summer adventure, Portland. Join us for world famous obstacles over a 5K or 10K distance.
When I Forgot
by Elina Hirvonen
When I Forgot is easily the best of these new titles, a meticulous little novel told from the perspective of a Finnish journalist who has stopped at a coffee shop on her way to visit her brother in a mental institution. As she sits, she reflects on a family life eroded by the violence and unpredictability of her brother's illness. Meanwhile, her American boyfriend, a visiting professor from Columbia, suffers as his memories of 9/11 are raked over by Finnish students demanding accountability for the American War on Terror. When I Forgot is tightly structured and coolly narrated, with a dispassionate voice that makes its extremes of emotion that much more affecting.
The Writer's Notebook
Various contributors
To describe the list of contributors to The Writer's Notebook as a "veritable who's who," as the jacket copy does, is to overstate the case a bit—while readers will no doubt recognize Aimee Bender and Dorothy Allison, Margaret Livesey and Chris Offutt aren't quite household names. The essays proceed alphabetically, with no regard for literary hierarchy, which is why you'll find a ribald, jocular Steve Almond essay about sex writing flush on the heels of Dorothy Allison's stern lecture on the importance of place. As Tin House's Lee Montgomery points out in the book's introduction, there's no way to quantify the process of becoming a good writer—every writer is different, every process unique. It is, however, as Montgomery observes with a vagueness appropriate to her conclusion, both "helpful" and "interesting" to hear writers discuss their process. This collection (culled in part from the annual Tin House Summer Writers Workshop) is correspondingly ranging, skittering from advice-oriented pieces to more personal reflections. An accompanying CD includes panel discussions from the summer workshops, featuring Charles D'Ambrosio, Denis Johnson, and more.
Erased
by Jim Krusoe
I didn't entirely understand the appeal of Jim Krusoe's Girl Factory, and I don't entirely understand the appeal of his new book, Erased. He's a fine writer with an offbeat turn of phrase, but that same offbeat quality holds the reader at such arm's length that it's difficult to get or stay engaged in his storylines. In Erased, a garden supply salesman starts getting postcards from his allegedly dead mother, postmarked from Cleveland—so he goes to Cleveland, takes an apartment above a sex shop, and begins following the clues he hopes will lead him to his mom. Krusoe's wryly hyperbolic descriptions of Cleveland are characteristic of his style, in that they're recognizable as jokes without actually being funny: "Cleveland had turned out to be not only a city of thinkers of a practical and intellectual sort but also a place where nearly every inhabitant was encouraged to practice at least one of the 'fine' arts...." It's Cleveland but not Cleveland; a joke, but not a joke; and a novel that may better serve readers with more patience for ironic distance than I.