FOR A SHOW that seemingly nobody watched at the time, Mr. Show has slowly, eventually earned the legacy it deserves. The sketch comedy program, which aired on HBO from 1995 to 1998, is now rightly revered as a cult classic, and many of its writers and cast have gone on to make further names for themselves in comedy and television: Brian Posehn, Scott Aukerman, Paul F. Tompkins, Mary Lynn Rajskub, and many others. The show's two creators, stars, and primary writers have also received recognition for roles they've played since Mr. Show ended: David Cross as Tobias Fünke on Arrested Development, and Bob Odenkirk as Saul Goodman on Breaking Bad. This is well deserved; both Cross and Odenkirk are terrific in those roles.
I'll take it one step further, though, and assert that, in hindsight, Mr. Show is the greatest American sketch comedy show ever made. The competition isn't even close. Looking back at the 30 episodes of Mr. Show today, they remain almost breathtakingly good—inventive and funny in a way that seems to have anticipated and influenced the last 15 years of television and comedy. (We can all agree that both television and comedy have gotten significantly better in the past 15 years.) The sketches, thick in satire and absurdity, are simultaneously both colossally dumb and incisively intelligent, joined together by bizarre stream-of-consciousness links that in many cases are the best parts of each episode. There's no easy way to reach consensus on the show's best moments—Titannica, Van Hammersly, 'Taint, God's Book-on-Tape, Audition, and countless others deserve the accolades—and the rare sketches that don't work are usually the result of a concept that's overly ambitious rather than slapdash or lazy writing.
Odenkirk and Cross, along with Posehn, have reunited for a book and comedy tour that comes to Portland this week. They'll be signing copies of their new book, Hollywood Said No!, at Powell's, and performing stand-up sets at the Newmark Theatre. I can't imagine they won't do a sketch or two together as well.
Hollywood Said No!—the newly published collection of unmade scripts by Odenkirk and Cross, with contributions by Posehn—is not much more than a consolation prize for the devoted. Along with a very small smattering of loose sketches, it includes complete scripts for two unproduced feature films: Hooray for America!, a plot-heavy affair that was intended to be the first Mr. Show movie but was shelved in favor of the disastrous Run Ronnie Run; and a 2003 script called Bob and David Make a Movie, which consists of a very loose framework onto which a series of new sketches are draped.
For obvious reasons, it's impossible to judge these scripts on their own merits, and reading Hollywood Said No! is a slightly forlorn exercise, like flipping through your grandmother's recipe box after her death, or listening to Elliott Smith's mumbliest demo tapes. Yes, there are a lot of good jokes here, but I couldn't shake the feeling that both scripts would lead to the same problems that hobble Run Ronnie Run, a movie with some incredibly funny scenes, but that eventually collapses due to its wispy plot and reliance on celebrity cameos. Run Ronnie Run's failure and minimal distribution effectively put the nail in the Mr. Show coffin.
Yet with the book's publication and this promotional tour, it looks like there might be some new light. Odenkirk and Cross have also suggested they'll do something for Mr. Show's 20th anniversary in 2015, possibly a stage show with new material. I'll cross my fingers for something more: perhaps a couple brand-new episodes of Mr. Show, cheaply produced for digital/online distribution. (This is exactly the kind of thing Netflix's Original Series was created for—are you listening, Netflix?)
Sponsored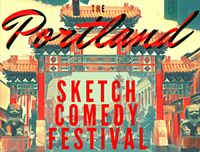 Sketch comedy troupes from all over N. America descend on The Siren Theater for 3 glorious nights.