I know when I look outside at rain, wind, and fog, I don't feel like getting out there for a walk. But I go, anyway, because it keeps me in shape and relatively sane, and many of these places are spectacular in the winter. So I encourage you to do the same. Here are a few places to check out.
Sponsored
Sketch comedy troupes from all over N. America descend on The Siren Theater for 3 glorious nights.
But first, some things to consider. Snow and ice are obvious things to be aware of, but remember that ice can linger on a shaded trail for days or weeks after a storm. Consider traction devices like Yaktrax, and remember to always tell somebody where you're going and when you're due back. A visit to oregonhikers.org will help with latest conditions. And my packing list always starts with a thermos filled with a hot beverage, plus clean shoes and dry clothes for the drive home.
One area to check out is Portland itself. Did you know, for example, that the Eastbank Esplanade is part of the 11-mile Willamette Greenway Loop from the Broadway Bridge to the Sellwood Bridge? It's flat, paved, and includes side trips like Oaks Bottom Wildlife Refuge, which is teeming with birds this time of year. Other in-town walks to check out are Hoyt Arboretum in Washington Park, the Marquam Trail to Council Crest, and the wildlife refuges at Sauvie Island.
I also love waterfall and riverside hikes this time of year. What might be a peaceful scene in summer is a show of real power in the winter. In the Coast Range, check out the several sections of the Wilson River Trail along Highway 6 on the way to Tillamook. Out east, the trail along the Clackamas River beyond Estacada might be snow-free, and in the Gorge, hikes like Eagle Creek and Triple Falls—while they may be icy in spots—are uncrowded and raging with water.
And finally, why not just embrace the season? Go right into the worst of the rain with a walk on the coast at Cape Lookout State Park, where you might see migrating whales, or Oswald West State Park. Or just strap on some snowshoes—you can rent them for less than $20 at shops in Portland and Sandy—and wander the snowy woods. You don't need any experience (poles will help, though), and many local hiking trails have signage for winter explorations. Check out the Twin Lakes hike on the Pacific Crest Trail, where without much effort at all you can visit a frozen mountain lake. Or follow what's basically the Elk Meadows hike off Highway 35 to Newton and Clark creeks.
The bottom line is, if it's going to rain half the year, why should we give up all that time on the trails? If only to stay in shape for wildflower season in the Gorge (see you in March!), winter walks are a great way to fully experience the wonder around us. Just don't forget the thermos!
Paul Gerald is an author, publisher, and guide. Among his five books is 60 Hikes Within 60 Miles of Portland, which includes all the hikes referenced here. Find out more at paulgerald.com.
---
More Fitness Issue Articles:
The World of Alterna-Fitness!
Air Guitar: The Dumbest Workout You Should Be Doing
A Food Critic's Quest for Fitness Glory
Sweat, Rewind, Repeat
Tips for Winter Hiking In and Around Portland
Exercise Is Not Going to Fix Your Body
Kegels: Maybe Only Do 'Em if You Want! (Or Never!)
How to Run a Marathon Without Becoming a Fitness Bro
The Purrrfection of Cat Yoga
Sponsored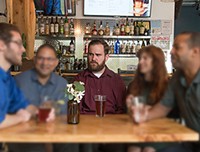 Adults aged 18-35 with good hearing will be paid for their time. Located at the Portland VA Medical Center