WEDNESDAY 11/4
LEON BRIDGES, KALI UCHES
(Crystal Ballroom, 1332 W Burnside) To say it has been a big year for Leon Bridges would be a comical understatement. After an old-fashioned record-label bidding war, Columbia released his debut, Coming Home. When Bridges first performed at the Crystal Ballroom last April, he was the opening act for indie folk band Lord Huron; his post-Pickathon return to the Crystal, now as the headliner, sold out in minutes. What is it about this 26-year-old kid from Fort Worth, Texas, that has ignited such frenzy? When overproduced, ego-fueled music rules the charts, Bridges brings a sincerity and genuineness to soul and R&B music not seen in decades. The comparisons to Sam Cooke are well deserved, but it should specifically be to the young Sam Cooke of the Soul Stirrers days rather than the professional showman of the Harlem Square Club. You are a lucky, lucky customer if you managed to score a ticket to tonight's show. But you already knew that. SANTI ELIJAH HOLLEY
COMBAT KNIFE, GAASP, FATAL FIX, SUSS LAW
(High Water Mark, 6800 NE MLK) Stray five minutes from Olympia's downtown, and you're in the woods. Without car headlights or the glow of a phone, you're likely in complete darkness, wandering through rural Washington without so much as a streetlight to guide you. Hardcore punk, long the realm of the urban and suburban sprawls of the '80s, has finally found purchase in this part of the country—Combat Knife shares members and more than a few stylistic attributes with the fellow Olympian true freaks of GAG. Murky recordings, childishly violent artwork, and supreme aggression all add up to a combination that is uniquely Northwestern, both reveling and making fun of hardcore's brutish tendencies. MAC POGUE
Sponsored
Sketch comedy troupes from all over N. America descend on The Siren Theater for 3 glorious nights.
JENNY DON'T AND THE SPURS, THE LONESOME BILLIES, ROSELIT BONE
(The Liquor Store, 3341 SE Belmont) There'd be something very, very right about a country show on a weeknight at a place called the Liquor Store even if the performers weren't as accomplished as the triple threat on tonight's bill. Operating from decidedly opposite ends of the country-western spectrum, this lineup travels from the occasionally punked-out classic country of the Lonesome Billies, to the Ennio Morricone-inspired western epics of Roselit Bone, to the boozy swagger of Jenny Don't and the Spurs. It's essentially a cross-section that proves country is alive and well in Portland, and not exclusively at the Landmark Saloon. Grab yourself a neat whiskey, descend those steps into the dark basement, and get ready to drown your autumn sorrows, y'all. RYAN J. PRADO
CO LA (DJ SET)
(Killingsworth Dynasty, 832 N Killingsworth) Baltimore-based producer Co La (AKA Matt Papich) arrives in town this week in support of one of the year's most electrifying electronic releases, No No. The LP, out on Software Records, doesn't shy away from its digital origins, with a kind of pixelated sheen on all of its samples and herky-jerky rhythms. The jagged pieces link up to form bracingly modern tunes that evoke the loose-limbed spirit of footwork, dancehall reggae, and the club music from Co La's hometown. Papich is here in Portland for a two performances, the first being a DJ set tonight at the freshly minted Killingsworth Dynasty, and a live set tomorrow at a venue whose name is being withheld at the request of the show's organizers. ROBERT HAM
BOYTOY, COMM, FOG FATHER
(The Know, 2026 NE Alberta) Beyond having arguably the best modern band name, Boytoy are straight-up, no-bullshit power-pop that shines in its energetic and undeniably catchy simplicity, much like playful pop-punk bands from the '90s like the Mr. T Experience and the Muffs. Fronted by Saara Untracht-Oakner, Boytoy just released their sophomore LP, Grackle, on PaperCup Music, and its 11 riff-driven tracks play out like the musical equivalent of juice boxes, sweet and delicious for two minutes, then suddenly gone. In addition, the Brooklyn trio have pretty much mastered the music video with their fuzzy-pop single "Postal," a graphic nightmare with dollar bills being pulled out of butts, chicken breasts being power drilled into walls, and guitarist Glenn Van Dyke crying blood. Definitely NSFW, if your boss is totally lame/sane. CAMERON CROWELL
MATT POND PA, LAURA STEVENSON
(Dante's, 350 W Burnside) If you missed catching Laura Stevenson when she toured through Portland in support of Bayside frontman Anthony Raneri and Allison Weiss this past August, you'll want to be sure to check out the Brooklyn-by-way-of-Long Island singer/songwriter this time around. Stevenson's excellent fourth album, Cocksure, came out last week on New Brunswick, New Jersey-based punk-rock label Don Giovanni Records, and it finds the songwriter turning up the volume and kicking all kinds of ass across 11 tracks of straight-shooting rock 'n' roll. Like her former Don Giovanni labelmate Waxahatchee (AKA Katie Crutchfield) did earlier this year on her Merge debut, Ivy Tripp, Stevenson has eschewed her quieter folk-pop roots in favor of amped-up '90s alt-rock. The one-two punch of "Touch Song" and "Jellyfish" establish Stevenson's self-deprecating approach right out of the gate, but it's her self-assured delivery that makes Cocksure a record worth devouring. CHIPP TERWILLIGER
TANGO ALPHA TANGO, TUMBLEWEED WANDERERS, LIQUIDLIGHT
(Doug Fir, 830 E Burnside) On the title track of LiquidLight's debut album, Uninitiated, a shreddy hair-metal guitar-squeal solo comes out of nowhere. It sets the stage for a boisterous, rapid-fire rocker that doesn't exactly turn the distortion knob all the way to the right—but despite the Portland band's refusal to go full-bore, it's definitely not what you would call restrained. Elsewhere, LiquidLight dips into classic rock, power pop, and modern rock territories, all with an emphasis on inventive playing and instrumental technique. That's because LiquidLight's two guitarists, Anthony Medici and Cory West, met at Berklee College of Music, and their training is evident throughout Uninitiated. While their propensity to expand rock's very familiar palette perhaps puts LiquidLight into prog-rock territory, they don't let their sense of melody and song structure be capsized by 17-minute multi-part suites and needlessly complex time signatures. (Well, almost. "Vindication" gets pretty tangled.) NED LANNAMANN
THURSDAY 11/5
ALIEN BOY, DRUNKEN PALMS, LITTLE STAR
(Reed College, 3203 SE Woodstock) See All-Ages Action!
SPIRIT CARAVAN, ELDER, MOS GENERATOR
(Dante's, 350 W Burnside) Have you heard Lore, the 2015 album by the Massachusetts band Elder? If you haven't, you should—ASAP. Lore is one of the most impressive rock albums of the year, as well as one of the most promising. It's impressive because Elder has crafted a killer collection of heavy psych that's as gloriously melodic as it is packed with potent riffs, prog wizardry and blacklit vibes. And it's promising because the band's members—three longtime friends in their 20s—have clearly taken a huge musical leap forward from their less dynamic, more straightforwardly stoner-rock-ish 2011 album, Dead Roots Stirring. It's an awesome thing to hear. This is Elder's first time touring through the Northwest, so get there on time and catch 'em while you can. BEN SALMON
PDX LEGENDS OF HIP-HOP 2
(Ash Street Saloon, 225 SW Ash) This Cornell West-ian event isn't just about community—it is one. Twenty-four local emcees will stretch a packed bill to its limit. Like its October predecessor, PDX Legends of Hip-Hop 2 begins with a rally in conjunction with Black Lives Matter, kicking off at 6 pm at the Multnomah County Justice Center. At 8 pm, the event shifts to the Ash Street Saloon, where Wax Wars, a short film about Portland DJs, will screen. Then begins the hip-hop potluck. Among the notable servers are the well-rounded Rasheed Jamal and the crisp Theory Hazit. But this evening's tasting is more about small plates than main courses. With so many emcees, there are bound to be those you can't stomach as well as those who leave you wanting for more. ANDREW R TONRY
THE MEMBRANES
(Lola's Room, 1332 W Burnside) Did you ever think you'd get a chance to see the Membranes play live in 2015? To the tiny percentage of readers who even know or care about these scabrous British post-punks, the answer is probably "no." The Membranes rose to small-scale notoriety in the mid-1980s as fiery, bruising shamblers led by boisterous frontman John Robb. Their songs stung with metallic causticity while also boasting a yobbish catchiness: Listen to 1985's The Gift of Life—on Creation Records!—for exemplary proof. The Membranes' first new full-length in 26 years, Dark Matter/Dark Energy, is a sprawling concept album about the scientific properties of the universe. It's their most expansive set yet—and if it's not as rugged and spiteful as their '80s output, it's certainly gutsier and more ambitious than most comeback records from fiftysomething musicians. DAVE SEGAL
HERMITUDE
(Holocene, 1001 SE Morrison) Luke Dubber and Angus Stuart of Hermitude started playing in bands together in the early '90s, and now produce electronic beats and sounds with a unique musicality and understanding of song structure. The duo won the AMP (Australian Music Prize) in 2012 for their album HyperParadise, which also won Best Electronica/Dance Album at the Australian Independent Records Association Awards. Their most recent album, Dark Night Sweet Light, solidifies their usual trappy, hip-hop-inspired electronic sound, which draws upon many genres for a unique take on electronic dance music. ROSE FINN
JEFFREY FOUCAULT, JEFFREY MARTIN
(Alberta Rose Theatre, 3000 NE Alberta) Jeffrey Foucault and Jeffrey Martin first performed together at Alberta Rose Theatre in November 2013, and it was plainly obvious how much mutual respect the two songwriters had for each other. It's no surprise, then, that they decided to do it again. Foucault, based out of Wisconsin, is touring behind his latest, Salt as Wolves, his fifth album of all-original material, a smoldering collection of dark blues and Americana. Martin's most recent release is last year's phenomenal Dogs in the Daylight (see, even their album titles are similar). If you missed the two Jeffreys last time around, here's another chance to hear the loveliest, lonesomest ballads by two of the best practitioners of the craft. SEH
THE GHOST EASE, SPOOKIES, MONTHS
(Alberta Street Pub, 1036 NE Alberta) Over the past few years, the Ghost Ease have steadily refined a vocabulary of rock that fuses the genre's capabilities for transcendent catharsis and rowdy playfulness. While the band has always revolved around the core of Jem Marie's dirge-like guitar and lilting vocals and Nsayi Matingou's chaotic, incendiary drumming (Matingou's playing turns the drums into a lead instrument right alongside the guitar), RAW is their first full-length album with Laurence Vidal on bass. Vidal provides a grounded foil to Marie and Matingou's flights—the band has long evoked dreamy textures, but Vidal's bass finally provides an earthly anchor. RAW, being released at tonight's show at the Alberta Street Pub, finally reveals the real world to which the Ghost Ease's dreams are tethered. MP
SWINGIN' UTTERS, SUCCESS, THE BOMBPOPS
(Hawthorne Theatre, 1507 SE César E. Chávez) Swinging Utters' "Nothing to Rely On" might be the first 7-inch record I ever bought. It was either that or the Rickets' seminal "Destroy Olympia." I remember pulling "Nothing" out of the sleeve to find vibrant red wax. It was 1995. Many of the records I bought back then have long since disappeared: Born Against, Dead Kennedys, and so on. God knows what happened to them. But I've still got "Nothing to Rely On," a brief, serrated, snotty blast of shout-y nihilism. The same goes for the Utters themselves, a band with a dopey name but an earnest, working-class ethic and ethos. Since 1987 the Santa Cruz stalwarts have put out 10 albums, three since coming back from a late-'00s hiatus. Singer Johnny "Peebucks" Bonnel is the lone original member and most recently he's veered into folky cow-punk, but he maintains the force of charging, poppy, rebellion rock. In that sense, punk is indeed something to rely on. ART
CHEATAHS, VULKANO
(Analog Café, 720 SE Hawthorne) Guitar bands. They're everywhere! Which is weird, because we've been hearing for a long time about how rock 'n' roll is either slowly dying or already dead, and how bands that build their songs largely with electric guitars are sooooo five years ago—no, 45 years ago. But here's a fun fact: People who write things on the internet are not always right. Guitar bands are everywhere. Take, for example, Cheatahs, a London-based quartet that earned excellent reviews for its 2014 self-titled debut album and is now back with a follow-up. It's called Mythologies, and it's a 13-track blur of overcast jangle and endless reverb, paired with deadpan vocals that sigh unhurried melodies. This is shoegaze for short attention spans. Despite what you may have heard, there are a whole bunch of bands doing this right now. Cheatahs do it better than many of them. BS
M.E.S.H.
(Yale Union, 800 SE 10th) Berlin-based producer M.E.S.H.'s (James Whipple) music sounds like Photek during his peak drum-and-bass phase, but slowed to a brutal dubstep tempo. Whipple's beats slap with vehemence and unpredictability amid disorienting atmospheres that are beyond gothic. Releases like Piteous Gate, Infra-Dusk/Infra-Dawn, and Scythians represent some of the most baffling and interesting music of 2015. DS
FRIDAY 11/6
ODDISEE, GOOD COMPNY, VINNIE DEWAYNE
(Holocene, 1001 SE Morrison) Read our article on Oddisee.
SLOTHS, FIGHT AMP, KOWLOON WALLED CITY, HANG THE OLD YEAR
(Black Water Bar, 835 NE Broadway) Read our article on Kowloon Walled City.
LUNA, THE PARSON RED HEADS
(Aladdin Theater, 3017 SE Milwaukie) Across 14 years of lineup changes, label shakeups, and an intraband romance that destroyed the marriage of frontman Dean Wareham, Luna maintained a beautiful consistency. From the group's first LP (1992's Lunapark) to their last (2004's Rendezvous), the sound never wandered far from its sly and sexy center as psych-influenced guitar pop that could either be academically worried over or added to the playlist of a particularly savvy stripper. Wareham ended the project in 2005 to concentrate on recording with his now-wife (and late period Luna bassist) Britta Phillips and some spare, beautiful solo efforts. But as no band stays dead for long in our new musical economy, Luna has reunited for a tour and, from the YouTube clips of their recent live performances, have lost none of their intoxicating power. RH Also see My, What a Busy Week!
DRAFT DODGERS, SSDD, NAIL POLISH, DARK/LIGHT
(Holocene, 1001 SE Morrison) Tonight is something of a Help Yourself Records showcase, featuring Seattle bands SSDD and Nail Polish. Y'all might have heard of SSDD (AKA Steal Shit Do Drugs), but if you haven't, they're four no-counts who are swiftly becoming infamous for playing facedown, knuckle-draggin', sweaty, early-'80s-sounding West Coast PUNK. Nail Polish shine up the dirty, late-'70s Keeled by Deaf punk as it was lovingly filtered through the Bay Area during the early 1990s—they're angry, raw, and loose. Nail Polish reportedly have a cassette long-player due out at the end of this month as well. MIKE NIPPER
LADYWOLF, UBU ROI, FUNERAL GOLD
(The Know, 2026 NE Alberta) Ladywolf view life with the same childlike abandon as the bands on those early Gnar Tapes releases—not to mention a kindred obsession with women and weed. Their Babes EP turned out the same sort of race-to-the-bottom vein of gutter-garage as the aforementioned tape label, but their split with locals the Goobs seems to have expanded their purview to include mortality (in the shape of "Suzie's Dead"). Can't dab forever, I guess. They are joined by Seattle scuzz-rock outfit Ubu Roi, who took their name from the same play that Pere Ubu drew their moniker. Pere Ubu's fractured paeans about international policy are nowhere to be found here—the track listing of Ubu Roi's debut Nice Dude EP reads "CHEEZBURGER," "FUCK COLIN," "NICE DUDE," and "BADAT SURFING." I don't know how far along the campaign to legalize huffing glue is, but I think they've found the perfect soundtrack. MP
SATURDAY 11/7
HE WHOSE OX IS GORED, SOL, SIOUX
(The Know, 2026 NE Alberta) Seattle's He Whose Ox Is Gored has the stuff of classic Pacific Northwest heavies like the Melvins and Karp—heavy guitar slag and shouted vocals, although minus the sense of humor. The band uses synthesizers to great effect, turning sludge into silk, and making prog palatable for those who might otherwise get bulldozed. Their latest, The Camel, the Lion, the Child, makes for a pretty captivating listen, especially on "Alpha," which starts out with Lisa Mungo's spacious keyboards and vocals before downtuned guitars and Brian McClelland's guttural voice rip through the quiet. It's the kind of moody metal that—when paired with dark, gray days—can make you okay with hiding under the covers. MARK LORE
CMJ COLLEGE DAY ON TOUR: THE GHOST EASE, JACKSON BOONE, SABONIS
(Holocene, 1001 SE Morrison) The CMJ Music Marathon has been going on for 35 years now. This year, rather than hoard the vibe in New York City and deprive the rest of the country of whatever college music is supposed to sound like, CMJ says, "College Day on Tour takes the spirit of College Day and translates it to be more personal and regional across the country, aiming to invigorate the CMJ College Radio community in every pocket of the country." Fair enough! And whatever good-spirited divinities bring together a lineup of this stature is a-okay in our book. The Ghost Ease have been playing their hides off with the release of their new LP, RAW (see Thursday's listing), while Sabonis dropped a fantastic self-titled tape in August via local label Good Cheer Records. And Jackson Boone performs for the first time since officially dubbing his backing band the Ocean Ghosts. The cover's a little steep, but there are workshops and seminars and speakers throughout the day. RJP
RADIATION CITY, DEEP SEA DIVER
(Mississippi Studios, 3939 N Mississippi) Portland is so saturated with bands, sometimes it's hard to filter who you'd actually listen to and who you politely see because your roommate's new boyfriend plays bass for them. Radiation City is one of those bands you'd actually pay to see and enjoy. Their five members create soft, '60s-alternate-reality melodies. Their brand of dreamy, retro indie pop, with smooth, ethereal vocals and soft, plunky rhythms is smooth and bittersweet—all three of their albums could be a perfect soundtrack to your rainy winter. RF
SUNDAY 11/8
CHILI JAMBOREE: DENVER, PORTLAND COUNTRY UNDERGROUND, DJ TENDER LOVE AND CARE
(White Owl Social Club, 1305 SE 8th) See See My, What a Busy Week!
HERE WE GO MAGIC, BIG THIEF
(Mississippi Studios, 3939 N Mississippi) Read our article on Here We Go Magic.
DRUNKEN PALMS, ALIEN BOY
(The Know, 2026 NE Alberta) Portland shoegaze/pop-punk/Smiths-enthusiasts Alien Boy are finally releasing their debut EP, Never Getting Over It, in physical form, after having been available on Bandcamp since April. Armed with 100 tapes, Alien Boy kicks off a West Coast tour with their friends in Portland twinkle-punk band Drunken Palms. This show is sort of a great DIY melting pot of the local punk scenes, as Drunken Palms includes songwriter Katelyn Mundal, guitarist Alex Hebler (Golden Hour), and drummer Mac Pogue (Mercury contributor/Snow Roller bassist). While Alien Boy, originally a three-piece of songwriter Sonia Weber (former Our First Brains drummer), guitarist Caleb Misclevitz (former Our First Brains guitarist), and drummer Derek McNeil, have also added Pogue on bass. Expect an emotional night with a bunch of musicians trading their instruments. CC Also see All-Ages Action!
MONDAY 11/9
LIKE A VILLAIN, LUKE WYLAND, THE CRENSHAW
(Mississippi Studios, 3939 N Mississippi) See My, What a Busy Week!
TREY ANASTASIO BAND
(Crystal Ballroom, 1332 W Burnside) See All-Ages Action!
ALEX IAN SMITH, SEAN PIERCE, ADHERE TO FORM
(Church, 2600 NE Sandy) The experimental electronic music community in Portland has grown in giant strides over the last five years, shooting tentacles in almost every direction. You can go out almost any night of the week and catch an interesting performance, with artists often using live electronic music gear. Sean Pierce and Alex Ian Smith (of the Portland duo ASSS) each present their solo projects tonight, performing with an array of handpicked instruments synced up for maximum metallic syncopation. Adhere to Form also have a taste for the industrial sound and driving noise that evoke a motorcycle scene set on some lost highway. CHRISTINA BROUSSARD
TUESDAY 11/10
GESAFFELSTEIN, GENER8ION
(The Evergreen, 618 SE Alder) See My, What a Busy Week!
RARE DIAGRAM, FUR COATS, CORONATION
(Holocene, 1001 SE Morrison) Read our article on Rare Diagram.
THE FRONT BOTTOMS, THE SMITH STREET BAND, ELVIS DEPRESSEDLY
(Hawthorne Theatre, 1507 SE César E. Chávez) Since 2007, Woodcliff Lake, New Jersey-based underground-rock quartet the Front Bottoms have been bouncing around the country with a youthful, energetic live show that has triumphantly delivered the band's affecting and exuberant blend of folk, punk, and experimental rock to a fervent fanbase. Front Bottoms frontman Brian Sella talks, sings, and stammers his way through imagery-soaked lyrics that inhabit a realm similar to the Mountain Goats' John Darnielle and the Hold Steady's Craig Finn. The band's latest release, Back on Top, continues this trend with more thoughtful and vivid reflections. Don't sleep on opener Elvis Depressedly, the lo-fi pop project of Asheville, North Carolina, singer/songwriter Mat Cothran. That band's fantastic recent album, New Alhambra, showcases Cothran's ability to craft bittersweet and melodic music and deliver it with an unbridled passion that's deeply sincere and optimistic. CT Also see All-Ages Action!
TIMMY'S ORGANISM, SLEEPING BEAUTIES, THE PITY FUCKS
(Star Bar, 639 SE Morrison) Epileptix. Clone Defects. Human Eye. Reptile Forcefield. Detroit punk-rock powerhouse Timmy Vulgar has led more than his fair share of well-named bands that were weird and dark and fast and noisy and cool. Up at bat: Timmy's Organism, a trio whose alien racket runs the gamut from gnarled punk to skuzzy garage rock to back-alley blues holler. All of the above and more is captured on the band's new album, Heartless Heathen, released last week by Third Man Records, which blasts through 10 bracing tunes that buzz and howl and flail but never lose their oddball accessibility. If nothing else, the Timmy in Timmy's Organism inspired one of the great lines I've seen recently in music criticism, courtesy Mitch Cardwell in Maximumrocknroll: "How can KURT VILE fans sleep at night knowing that this fucking guy is out there, ruling the universe?" Vile rules, too, but that's good stuff. BS
Sponsored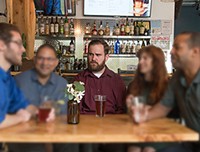 Adults aged 18-35 with good hearing will be paid for their time. Located at the Portland VA Medical Center