"I GUESS THIS is the good thing about our band: We all have different tastes in music," says Maya Stoner, guitarist for Forest Park. "If one person writes a whole song, it won't sound the same as us all putting our input in."
Sponsored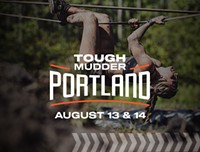 Lock in your summer adventure, Portland. Join us for world famous obstacles over a 5K or 10K distance.
The Portland group debuts its first physical release at a pair of shows this week—one all ages, and one 21 and over. The self-titled EP, which comes out in a homemade run of 100, documents the power of a group that isn't easily defined or contained. "Basically we just started playing guitar together because we wanted to play music that we listened to, which was mostly Northwest kind of stuff, like K Records or Kill Rock Stars," says Katherine Paul, who also plays guitar. Paul and Stoner have been playing music together since their teens, and before Forest Park they both played in the band Teeath.
The duo enlisted Cyrus Lampton as a drummer, and at the first practice, Stoner says, "The only band that we all had in common was Do Make Say Think. So we got really stoked on that, and I think it's really funny because now our songs are 10 minutes long."
Now a four-piece with the addition of bassist Michael Campbell, the band's EP contains only three songs, but all told Forest Park runs a total of nearly 25 minutes. The lengthy compositions ebb and flow into several different sections, containing the wide-angle scope of post-rock but a much more animalistic, close-to-the-ground perspective. Alongside minimal and impressionistic lyrics, the group turns musical ideas over and over like gems, polishing and wearing down the raw surfaces until they gleam. "I feel like sometimes our songs end up having pockets of songs within them—they change key in a different way or they change feel, so that it's almost like another song," says Paul.
"There's definitely a lot of chiseling," says Campbell of the band's writing and arranging process. "We've been playing long enough to have a general idea of where we're gonna go. We can all kind of sense it. It takes time, and it takes the right amount of understanding and patience, but overall I feel we're pretty lucky with the connection we have."
The EP was recorded with the help of Clayton Knapp and Nick Vicario of the band Wild Ones, with guest performances by Holland Andrews of Like a Villain, and Shannon Steele and Ryan McAlphin of Typhoon. The group actually ended up recording it in Paul's basement. "We were trying to look for a space with a room where they could set up and a room where we could record," Paul says, "and we just decided on my basement because it was open—and free."
Amazingly, the band tracked their parts separately, surprising when one considers how integrated their sound is on the recording. With carefully layered dynamics and compositions that can feel stream-of-consciousness, one initially assumes the bulk of the EP was recorded live. But everything is arranged precisely, the band says. "I was kind of impressed to see our drummer go through one take of a 10-minute-long song," jokes Stoner.
Meanwhile, the band's name indicates more than their Portland roots. "It's an oxymoron," say Stoner. "A forest is supposedly this huge, uncontained thing, but a park is a block in a city that's really contained. And that kind of described our sound. At times it's really big and reverb-y and organic, and at other times it's soft and sweet."