CONCENTRATION is relaxation.
Sponsored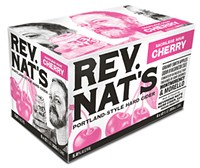 No-fee, same-day delivery of Rev Nat's Hard Cider & Old Town Brewing throughout Portland Metro
At least when doing something inherently fun. At the Lumberyard—Portland's only indoor bike park—the concentration one must exert is so enjoyable that you can temporarily forget about your water bill, that insensitive thing your coworker said, and your neighbor's annoying chickens. It's just you and the exhilaration of coaxing a modified BMX bike over a winding track filled with human-made challenges: loping hills designed to hurl you forward without having to pedal, quarter pipes that catapult you into the air and down some improbable nearby ramp, towering vertical walls, and log trails designed to mimic the great outdoors.
It's an amusement park for cyclists, filled with like-minded riders of all ages and varying skill. And it's deceptively easy to walk in and just "do." Sign a waiver, grab a rental bike and helmet, and you're on the track, whipping around, working up a sweat... and marveling at how two hours could've passed so quickly.
The Lumberyard's restaurant/bar—stocked with Northwest beer and better-than-average vittles—overlooks the imposing ramps of the "orange" (medium skill), "blue" (more difficult), and "black" (wicked tough!) tracks, where riders twist and fly as if their bikes were natural extensions of their bodies. You cheer and they enjoy the attention. The green track is for "newbies" (like myself) who may not have much mountain bike or BMX experience, but love the feeling of pumping over a series of short hills, which carry you into a curving ramp that helps in taking that hard left... and then hard right... and then swoops you back to the beginning of the track. It's like a roller coaster you control—one that takes concentration... the kind that makes you forget everything else.
Downstairs is the Bunker, which mimics the urban, open spaces of skateparks. BMXers can hone their grinds and sharpen their jumps—but once again, even the newest of newbies have plenty to practice and accomplish.
Unlike some skateparks or surf spots, everyone is welcome at the Lumberyard and the regulars are eager to offer encouragement, friendly advice, and patience to those trying it for the first time. (Stop by on Wednesday evenings for "Newbie Nights" and receive free instruction and tips from experts planted around the tracks.) The rules are followed, the attitude is decidedly non-macho, and everybody seems to be in it for one reason: a fun time.
That's the main priority for Lumberyard creator and owner Will Heiberg, who simply wanted a place for his friends and kids to ride, burn off energy, and build their skills.
"For me, it's all about getting out and riding with these people under one roof," Heiberg says. "When I do that... something just... clicks. It's seeing that look of accomplishment, and sharing that sense of community—and of course, the passion for biking.
"Yeah... it's fun! Really fun," Heiberg adds after a moment. "And at the same time? It's something bigger."
---
Lumberyard Bike Park celebrates its two-year anniversary on June 21 with discounts, fun for the kids, and low-pressure competitions. Find out more at lumberyardmtb.com.
---
Lumberyard Bike Park
2700 NE 82nd
252-2453
Open daily 9 am–10 pm (except Thanksgiving and Christmas)