WELCOME, TRAVELER. Let's have a drink and toast your arrival. That's not redundant, because rule #1 of Portland is: Always have two drinks in hand, so you don't have to stop drinking to raise your glass every time another goddamn Californian moves to town.
Not you, though. I love you. I know what it's like to be a transplant—my dad moved to Portland from Idaho when I was in elementary school, and I only arrived in town six years ago. (Please don't tell anyone.)
In the spirit of assimilation, here's a guide to drinking in Portland, bar by bar:
Brewery Central: The Commons Brewery (630 SE Belmont)
If you're a beer fan moving to Portland, you already know where to find a good IPA: literally anywhere.My eye doctor gives me delicious Widmer IPAs every time I go in. But to my mind, the hub of the city's brewery scene is the Commons. These guys are knocking it out of the park—mostly European farmhouse styles with a flair for the wild. Just don't ask for an IPA—they've never even made one. (see also: Widmer, Breakside, Gigantic)
Beer School: Horse Brass Pub (4534 SE Belmont)
Portland beer culture would be nothing without Don Younger. Younger was a beer drinker's beer drinker, an adviser to the OGs of Portland craft brewing, and the platonic ideal of a publican. Even after he moved on to the smoking section of that great taphouse in the sky, his legacy lives on in the thoughtful, nearly limitless beer list at the English pub he owned until the last, the world-famous Horse Brass. (see also: BeerMongers, Belmont Station, Saraveza)
[Insert Wine Pun Here]: Bar Avignon (2138 SE Division)
Oregon and Washington's beautiful landscapes aren't just pretty: They offer some of the best winemaking country in the world. Bar Avignon will show you the ropes, with a host of local wines alongside classics and youngbloods of the global scene, in an unpretentious bar and bistro setting. Everyone working there is an obvious wine geek, so don't worry if you can't even pronounce the names on the bottles.
The Grasshopper at Pépé le Moko
Jason DeSomer
Cocktail Pilgrimage: Clyde Common (1014 SW Stark) and Pépé le Moko (407 SW 10th)
If you're a cocktail geek, there's a good chance you moved to town just to worship at the feet of Jeffrey Morgenthaler, author of last year's invaluable Bar Book and mastermind of the bar programs at Clyde Common and Clyde's subterranean sister, Pépé le Moko. At Clyde, Morgenthaler's famous barrel-aged cocktails dazzle, but downstairs, striking a balance between seedy (no windows) and stately ($$$), the star of the show is, implausibly, a $14 Grasshopper. Pépé's boozy chocolate-mint shake is rounded out with Fernet; it's a beautiful 1950s-kitchenette-backsplash green. Don't overthink it.
Feeling Flush: Multnomah Whiskey Library (1124 SW Alder)
If you feel like rubbing elbows with the nu-bro riche and you've got a hankering for a $1,200 bottle of wine to wash down your $126 actually Japanese wagyu steak, or a $260 glass of undoubtedly delicious and impossibly rare Campbeltown, MWL has you covered. Of course, you can also get a burger and fries for $15 and any of the hundreds of reasonably priced spirits lining the walls floor to ceiling, but if you're going to be seated in what feels like a cartoon starring Scrooge McDuck as Boss Tweed, you're pretty much committed to some light economic villainy. The only thing missing is a cloud of cigar smoke and a "downstairs" storyline that's somehow always better than the "upstairs" one.
Tiki's Dark Side: Rum Club (720 SE Sandy)
Meanwhile, across town, some of the best cocktails in the city are coming out of the unassuming wedge of a half-assed tiki bar, Rum Club. Once a sort of waiting bar for the now-defunct Beaker & Flask, Rum Club outlived its sister spot, and continues to turn out the finest cocktails in town. It's true Portland royalty, wearing a crown of paper umbrellas, ribbons of orange peel, and swizzle-stick tree branches. (see also: Hale Pele for full-on tiki, The Alibi for tiki karaoke)
Portland's Supposed Favorite Sport: 442 (1739 SE Hawthorne)
Supposedly, Portland loves soccer. Like a lot of things in this town, though, we appear to mostly love complaining about how much everyone else loves soccer. Regardless, if you also love soccer, this is the bar for you. With something like 100,000 screens showing probably every soccer game in the world, a few good beers on tap, and, why not, a menu full of Bosnian food, 442's a great place to watch a game of un-American football. (see also: Spirit of '77 for Blazers, Yur's for Boston teams, Saraveza for Packers fans)
Portland's Actual Favorite Sport: Sassy's (927 SE Morrison)
If you moved to Portland because you heard we had the most strip clubs per capita, well I think that's kind of a weird criterion, but welcome anyway. It's probably true, by the way, the per capita thing. The beautiful thing about being known for both beer and boobs is that bars like Sassy's exist: one of the best unsung craft beer taplists in town happens to be here, waiting with open arms and no top on. (see also: Devils Point for Stripparaoke on Sundays)
Rare Imports: Prost! (4237 N Mississippi) and Stammtisch (401 NE 28th)
Prost! is an excellent German bar with a rowdy clientele of mid-twenties golfer-class kids. A few years ago they had so many noise complaints that they actually employed someone to shush their patio after a certain hour. Portland needed a grown-up beer bar, and luckily Prost! owner Dan Hart opened Stammtisch. With rare German beers on tap, an Alpine food menu, and a friendly shared-table vibe, Stammtisch is an ideal old-world bar. And while Andrea may hedge about her favorite burger (see the opposite page), I will not: It's the Stammtisch burger—homemade pretzel bun, stacked with Emmentaler cheese. Wunderbar! (see also: Latin American Teote, the izakaya-ish scene: Tanuki, Barwares, Shigezo)
Rainy-Day Haven: Roadside Attraction (1000 SE 12th)
Roadside Attraction's post-apocalyptic covered patio, apparently constructed from the detritus of a lost civilization, is the perfect place to learn to love the Portland rain. Sit by the fire, listen to the water pelting the awning, and guzzle Fernet like it's the damn deluge. Repeat until you find yourself sipping one drink while raising the other to toast a bright-eyed traveler's arrival to your city. (see also: Red Fox, Interurban, Roscoe's)
---
More Newcomers' Guide Articles:
Welcome to Portland!
Winter Is Coming
A Portlander's Pronunciation Guide
Overrated Portland
Sports!
A Newcomers' Guide to Making Friends
Free Love
Getting Around
Hither and Thither
Finding a Place to Live
How to Apologize for Moving to Portland
Lafftown PDX
Bicycle Death Traps
Portland History 101
Portland Myth Bustin'!
Travel Portland
GOSSIP
NEWS
MUSIC
FILM
FASHION
FOOD
DRINK
ART
Sponsored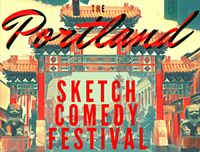 Sketch comedy troupes from all over N. America descend on The Siren Theater for 3 glorious nights.