THE EDITOR called me into his office.
"Chris, you should do an article about wine. Wines under $30, that kind of thing."
Sponsored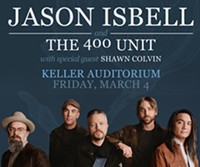 Jason Isbell has established himself as one of the most respected songwriters of his generation. Don't miss Jason Isbell and the 400 Unit, March 4th at Keller Auditorium!
My ears pricked; my jaw set. I spend $30 on a bottle of wine once a year, when my mom needs her annual Christmas fix of Rombauer chardonnay. (I think she mixes it with vodka. Our bloodline isn't particular.)
"How about I'll write a piece on workhorse wines that cost half that much?" I paused for effect. "I'm prepared to look dumb in the service of saving people money and embarrassment."
If you're like me, you cringe when people scrunch their noses, furrow their brows, and trot out the wine vocabulary. Sommeliers, stewards, and wine bores, if they even get past the title of this piece without crumpling their tastevins in their palms, will regard me as a laughingstock for the rest of my days. I don't care. Here's your $20 back—the $20 difference between pinots that tasted the same. Feels good, doesn't it?
Our tasting panel arrived at the following conclusions about each wine, with "wine vocabulary crib notes" should you be challenged to speak pertinently while you try to relax and enjoy yourself. These are summertime wines, and generally light bodied except as noted. Most were purchased at New Seasons, with the steward's assurance they would be in stock for the season. Where noted, some whites were purchased at Trader Joe's.
WHITES
Mason, Pomelo sauvignon blanc, 2010, California, $11.99
The pomelo, a large grapefruit-like citrus, is a natural associative for sauvignon blancs. Served chilled, this distinctive and memorable wine makes a great, if perhaps ham-fisted introduction to the varietal.
Nobilo, sauvignon blanc, 2011, New Zealand,$9.99(Trader Joe's)
More approachable than the Pomelo, with less "in-your-face grapefruit." It is overall less tart and sweeter, given complexity by a big nose of—and subtle flavors of—mango.
Edna Valley, Paragon chardonnay, 2010, California, $10.99 (Trader Joe's)
Lightly oaked and tart like an apple, with extremely subtle pineapple and spice. This is not one of those unctuous California chardonnays that tastes of movie popcorn; nor does it have the dilute soul of un-actualized, drowned Gravensteins. While simple, it is focused and finishes cleanly, just like a good meeting of the Nora Roberts Book Club.
Ferrari-Carano, Fumé Blanc, 2011, California, $12.99 (Trader Joe's)
This is a wine for food, slightly tangy with a very long, pleasantly sour finish. Distinct lime-flavored acidity balanced with grassiness give it backbone to commingle with grilled meats, but again, this will sip alone just as well.
Aliança, Vinho Verde, 2011, Portugal, $8.99
Sweet and fairly effervescent, this young wine (literally, "green wine") is tart like a crabapple, has a hay-like nose, and is light and refreshing enough to be a hot-day sipper. Annoy your friends by referring to its "petillance," or spritzy nature.
Condes de Albarei, Albariño, 2011, Spain, $9.99
Light bodied and slightly bitter, like preserved lemon. A hot-day porch wine that has yet to bore the barbecue circuit.
REDS
Ravenswood, Old Vine Zinfandel, 2010, California, $12.99
Feisty young red, with pleasant traces of tannin (tannin is the bitter substance in some wines that creates a slightly abrasive texture in the mouth). "No wimpy wines," indeed—this is the blackberry-heavy red they would have been swigging in Easy Rider, had they gone antiquing instead of getting shot by hicks.
Peachy Canyon, Incredible Red Zinfandel, 2010, California, $10.99
Of all these wines, this zinfandel benefits the most from a half-hour breathing before drinking, becoming more full bodied and balanced. It starts mild, with a warm, spicy, protracted finish. It is simpler and less aggressive than the Ravenswood, and more tannic. A professor would feel nice drinking this, or an architect.
Bruno, Pinot Noir, 2011, Oregon, $13.99
It is difficult to find interesting pinot noirs at low price points, but this light bodied, slightly hot, distinctly fresh wine is subtly smoky, full flavored, and finishes quickly with little tannin.
Guild, Syrah/Grenache/Mourvèdre blend, Oregon, $12.99
Guild's blend has a full jammy nose, is spicy and light bodied, and has dark cherry flavors with a quick, slightly bitter finish. It is strong enough to stand up to food, but sips well on its own.
ROSÉ Casal Garcia, Vinho Verde, Portugal, $8.99
Strawberry Hill all grown up! (Robert M. Parker Jr. would never refer to a Boone's Farm product in his hallowed column, but we have no such hangups.) This unmistakably strawberry-centric, light, slightly spritzy rosé will work for you all summer. Serve chilled as directed... very directed. It's the top-most wording on the label.