I FIGURE there are four types of people who will read this article: diehard Yo La Tengo fans, who may already have tickets to this week's sold-out acoustic show at Revolution Hall (35 percent); people who know the band, but missed out on tickets or weren't interested (30 percent); people who have heard of them, but maybe aren't that familiar with the music (25 percent); and people who have never heard the band's strange name before (10 percent).
Sponsored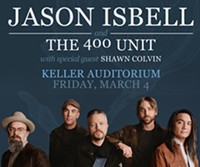 Jason Isbell has established himself as one of the most respected songwriters of his generation. Don't miss Jason Isbell and the 400 Unit, March 4th at Keller Auditorium!
Let's start there. Yo La Tengo is Spanish baseball talk for outfielders going for the same fly ball ("I've got it!"). Partners Ira Kaplan (guitar/keyboards) and Georgia Hubley (percussion/guitar) formed the group in Hoboken, New Jersey, in the early 1980s; the band's 15th (and current) bass player James McNew joined in the early '90s.
Full disclosure: I've been a fan for almost that long. I remember buying their albums on tape from Coconuts in 1994 (remember Coconuts?), so listen up, 10 percenters: Yo La Tengo are one of the greatest, most unique, and important bands of the past 30 years.
When I was a young whippersnapper, going to live shows for the first time, I watched as Yo La Tengo played wildly different sets every night. I assumed this is what all bands did. Little did I know that most bands play the same damn set night after night (I sadly learned this after buying tickets to see Ween play two shows back to back). This made no sense to me. It was easy to see how bored bands got playing the same 15 songs they did the night before, even when you throw in rock-star jumps and microphone throwing. Not only does Yo La Tengo have serious playing and songwriting chops, they approach music with an authentic love and appreciation that explodes on their albums and at live shows. Even after more than 30 years, they capture the magic and wonder you felt when you first got into music as a kid. Live, they're playful and serious and completely unpredictable, just the way a live band should be.     
Hubley and Kaplan began playing music together as a cover band called Georgia and Those Guys. Total music obsessives, they challenged themselves to learn an entirely new set of covers for every show, often at the legendary Hoboken club, Maxwell's. Kaplan and Hubley tackled a wide mix of tracks, from independent-minded bands like the Modern Lovers and the Urinals to mainstream fodder from KISS and Cheap Trick. Over the years they've covered and reworked whatever songs tickled their fancy. They raise money annually for New Jersey independent radio station WFMU by playing requested covers off the cuff. And their talent as re-interpreters applies to their own music as well: On 1993's Painful, they included both a loud, distorted version and a dronier, quieter take on "Big Day Coming."
Yo La Tengo's new album, Stuff Like That There, is their ninth full-length for venerable indie-label Matador and approximately their 14th overall. A mostly acoustic affair, the album features an eclectic mix of cover songs. There are well-known tracks like the Cure's "Friday I'm in Love" alongside obscure ones like "Automatic Doom" by Special Pillow. Songs by Sun Ra and the early incarnation of Parliament sit next to those of Hank Williams and Darlene McCrea (of American R&B girl group the Cookies and backing singer for Ray Charles). And there are reworked versions of Yo La Tengo songs—"The Ballad of Red Buckets" and "Deeper into Movies," from two of their best albums, Electr-O-Pura (1995) and I Can Hear the Heart Beating as One (1997). And for good measure, they've included a few new originals ("Rickety" and "Awhileaway").
Stuff Like That There harkens back to the roots and the soul of the band—specifically, one of their breakthrough albums: 1990's Fakebook, which also contained a mix of covers and originals in a largely acoustic format. The new album and tour also includes guitar work from one of their original '80s collaborators, Dave Schramm.
McNew chose to play upright bass instead of bass guitar for these new arrangements, and he also plays it on this tour. "What was I thinking?" he asks. "Actually, I know what I was thinking. Al Greller played upright on Fakebook [and Wilbo Wright played upright on the subsequent tour], so I thought I'd go 100 percent on the concept of this record and try it. It's a challenge, all right. Playing it every night on tour has been rewarding—probably in the way a boxer feels after winning a heavyweight match."
As die-hard New York Mets fans, the group might still be smarting from this year's World Series, so the 35 percent of you going to the Revolution Hall show might be wise not to mention Jeurys Familia or Lucas Duda. Unlike the Mets, though, Yo La Tengo are still going strong. ¡Ellos lo tengo! (They've got it!)
This visit to Portland will no doubt include some new covers, too. Asked if they have plans to return to the large tree in Overlook Park that featured on the cover of their 2013 album, Fade, McNew says, "No plans, but it could happen, especially if it starts serving coffee."