The Collision Series
Sponsored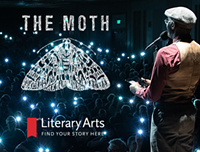 Literary Arts presents The Moth: Portland Mainstage. True Stories, told live. Held at Arlene Schnitzer Concert Hall.
Disjecta, 8371 N Interstate, Sun Aug 11, 5-9 pm, $10-50 sliding scale
CHOREOGRAPHER TAHNI HOLT and her friends were frustrated with the quality and amount of coverage Portland's dance scene was receiving from local media outlets—so they decided to take matters into their own hands, and begin publishing FRONT, a newspaper devoted to contemporary dance.
FRONT's first issue was released in 2011, followed by a second in 2012—it's now distributed nationally, and available around town at Nationale, Monograph Bookwerks, Performance Works NW, and other locations. The broadsheet is funded in part by a performance series called The Collision Series, which is gearing up this weekend to raise money for FRONT's third issue.
The show is billed as a four-hour-long durational performance, in which the audience is invited "to participate as much or as little as they like." Participating dancers include Holt, Linda K Johnson, and Noelle Stiles; the Decemberists' Nate Query organized the music. As is often the case with dance—and the reason, I'd wager, that good coverage of it is so hard to come by—the actual experience will be far more interesting and arresting than the words used to describe it.
_________________________________________________________________________________________
Portland Zine Symposium
Ambridge Event Center, 1333 NE MLK, Sat Aug 10, 10 am-6 pm, Sun Aug 11, 10 am-5 pm, free
EVEN BEFORE we were a comics town, Portland was a zine town: One of the longest-running events on the local literary calendar is the Portland Zine Symposium, which has been plugging along for more than a decade. Now in its 13th year, the festival has moved to a new location at Northeast Portland's Ambridge Event Center. (It was previously at Refuge, and Portland State University in the years before that.)
This year's symposium is "Luck" themed; the lineup features two days of tabling and workshops, plus bonus activities at the Independent Publishing Resource Center (IPRC). Here are some of the program's highlights:
Open House at IPRC—Tours of the IPRC, zine-themed bingo, and an open mic. IPRC, 1001 SE Division, Thurs Aug 8, 7-9 pm, $1 a bingo card
Illustrating for the Non-Artist—Martha Grover, creator of the excellent zine Somnambulist, helps non-artists learn to integrate images into their storytelling. Ambridge Event Center, Sat Aug 10, 11 am
Let's Grow DIY: Where Will Your Zine Take You—Longtime zinester Eleanor Whitney recently published a book called Grow: How to Take Your DIY Project and Passion to the Next Level and Quit Your Job. This panel promises tips and resources for creators looking to create more sustainable creative projects. Ambridge Event Center, Sun Aug 11, 2 pm
Zine Prom—Promising "more fun and less drama" than your high-school prom, the Zine Symposium's prom features DJs, raffles, snacks, a photo booth, and beers from Ninkaski. IPRC, 1001 SE Division, Sat Aug 10, 8-11:30 pm, $5 suggested donation