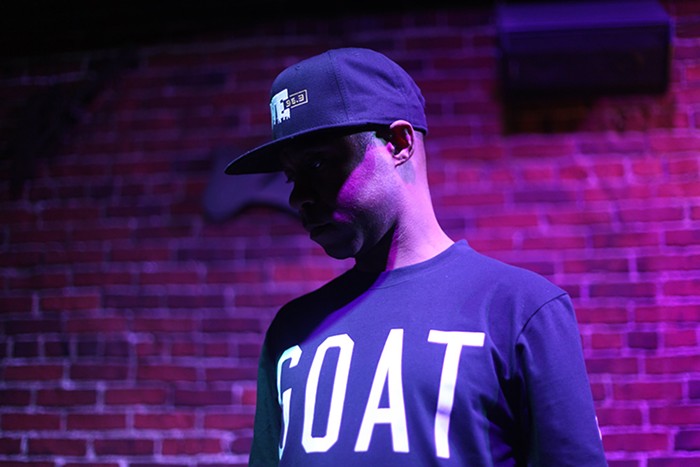 Idris "StarChile" O'Ferrall, a longtime organizer and promoter in Portland's hip-hop scene, died last Thursday at the age of 42. In March, O'Ferrall had been diagnosed with central nervous system lymphoma and underwent emergency surgery.
Soon after, friend and fellow scene leader David "DJ OG One" Jackson launched a crowdsourcing campaign to help O'Ferrall with medical expenses. The GoFundMe raised more than $10,000 in eight days.
A born and raised Portlander, O'Ferrell attended Wilson High School, and began his long career in hip-hop as a rapper in the '90s. O'Ferrall went on to run his own label, become a radio personality, and act as a seasoned MC and host for myriad parties and events.
Many in Portland's music community and beyond took to Twitter on Thursday to share memories of listening to StarChile from his days on Jammin' 95.5 and JAM'N 107.5. Others saw O'Ferrall as a mentor, a keyholder, a friendly face, and someone they genuinely respected in the community. There's no doubt Portland's hip-hop scene wouldn't be what it is today without StarChile's lifelong career supporting it.
StarChile was active in the Portland music community and was constantly giving people shout-outs, creating opportunities, and making vital connections. You could always expect to see his face whenever a great rap or R&B act came through town, and he'd show up to support events regardless of whether he was involved. He did what he loved and created space for it, too.
In 2015, O'Farrell partnered with then-Mayor Charlie Hales and DJ OG One to create Portland Hip-Hop Day, which brings local hip-hop artists to perform at City Hall every October. In 2016, StarChile was integral in developing Mic Check, a monthly hip-hop showcase with DJ Klyph. That event currently happens the last Thursday of every month at McMenamins White Eagle Saloon. O'Ferrall passed away on the same day as last month's Mic Check, with the hip-hop showcase he helped create serving as both a celebration of StarChile's life and legacy and as a space for the city's hip-hop community to grieve.
An official Homegoing Memorial Service for Idris "StarChile" O'Ferrall is planned for May 18 at Mt. Olivet Baptist Church (8501 N Chautauqua).
In the meantime, I leave you with one of my favorite interviews he conducted with Vince Staples, for those who could use a funny/embarrassing story about Portland and want to remember StarChile's laugh.