Ready or not, "hot girl summer" is here and it's time to jump into these cool soundwaves. Here are a couple of new releases from Portland-based artists, and a few shows to get you through to mid-July.
Sponsored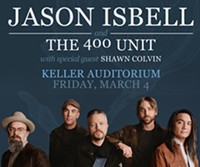 Jason Isbell has established himself as one of the most respected songwriters of his generation. Don't miss Jason Isbell and the 400 Unit, March 4th at Keller Auditorium!
---
"Truth," Mark Ronson featuring Alicia Keys, The Last Artful, Dodgr
Portland-based artist the Last Artful, Dodgr has been teasing her collaboration with Mark Ronson since 2017, when she posted a video on Instagram of them in the studio together. Finally, we're able to enjoy the fruits of their labor: an upbeat R&B-pop song about perseverance called "Truth," from Ronson's Late Night Feelings album of "sad bangers." Dodgr's distinct voice is the highlight and driving force of the song—which is saying a lot considering she's sharing the spotlight with prolific soul singer/pianist Alicia Keys. With two verses sung by Dodgr, the catchy chorus features the voice of both her and Keys: "How bad do you want it?/This way to the truth/I put everything on it/This way, follow suit." After Dodgr's almost unrecognizable feature on Anderson .Paak's excellent "Anywhere," featuring Snoop Dogg, it's nice to hear the artist lean in to her unique voice for this track.
---
"Glory Glory," Rasheed Jamal
I've been waiting for Rasheed Jamal to drop new music ever since 2017's Indigo Child (and since Jamal teased new music during his Pickathon set last year). But Jamal has remained quiet up until June 21, when the rapper finally dropped "Glory Glory," the first single from his forthcoming album. As with much of Jamal's material, the song is raw and his delivery is on point—he holds nothing back as he makes vivid testimony about the things he's been through, from gentrification to losing loved ones to crack addiction and overdose. Jamal's output isn't exactly the kind of stuff you party or get inebriated to, but it's pretty much guaranteed to be a banger when performed live. (Fri July 12, 10 pm, Jack London Revue, 529 SW 4th, $10-15)    
---
The Thesis: Sqvtch, Amenta Abioto, [E]mpress
While the Thesis usually happens every first Thursday, July's showcase was moved to Friday to avoid clashing with downtown's Independence Day festivities. This rare Friday-night Thesis has lots of allure: in addition to Sqvtch—who recently released his full-length project Whatever Makes You Happy—the multi-talented musician Amenta Abioto will surely stun the Kelly's crowd with her melodic, loop-based live renditions of songs like "Revolution," "Plant It," and "I Would Like." The bill gets even more stacked with the addition of MC [E]mpress, and special guests to boot. (Fri July 5, 9 pm, Kelly's Olympian, 426 SW Washington, $10, w/JxJURY, Veana Baby)
---
Speaker Minds, Adebisi, Arietta Ward
Behold: two Portland-based hip-hop bands on one bill. There's hip-hop/funk/soul six-piece Speaker Minds, which includes MC Randal Wyatt, and seven-piece neo-soul outfit Adebisi, led by singer Bisi Ashley. (Check out Adebisi's lovely song and accompanying video "Here it Comes," featuring Mal London.) Hold onto your edges: With added support from singer Arietta Ward AKA the "first daughter of funk and R&B," this bill is set to slay. (Sat July 6, 9 pm, Mississippi Studios, 3939 N Mississippi, $10-12)
---
Brown Calculus
There's no better time than the present to see post-soul/space-jazz duo Brown Calculus. Led by vocalist Vaughn Kimmons (AKA Brown Alice)—who recently garnered an invite to become a voting member of the Recording Academy—and anchored by Brown Calvin's interstellar keys and production, the celestial R&B outfit puts on one of the most cathartic live shows in town. Come take refuge in Holocene's air-conditioned warehouse, and bask in songs like "Self Care," and "Good Job" while you sip on a slushy. You'll be glad you came out to a Brown Calculus show while they're still cheap. (Wed July 10, 8:30 pm, Holocene, 1001 SE Morrison, $8-10, w/Just Pretend, Omari Jazz, Reliqs)
---
Hustle and Drone, ePP, Fountaine
Electronic trio Hustle and Drone are celebrating the release of new single "Stranger," from their upcoming full-length What an Uproar, by hosting a mixed-genre show that promises a secret act and some special collaborations. MCs ePP and Fountaine—artists that landed on Willamette Week's Best New Band 2019 list, at numbers seven and four, respectively—provide support for the bill. The local accolade was well deserved as Fountaine is one of the city's most active, talented, and entertaining MC/producer/DJs, and ePP's recently released sixth album There's a Place for People Like You, is his most impactful yet. (Sat July 13, 9 pm, the Liquor Store, 3341 SE Belmont, $8)