Now that January is behind us, Portland's hip-hop music calendar is starting to rev up, and folks in the scene are starting to make their release plans for 2020 known. Check out these three sweet new visuals for locally made singles, plus a couple noteworthy shows happening before Valentine's Day.
Sponsored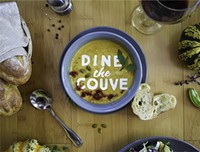 Experience the bounty of northwest flavor with special menus at Clark County restaurants all month.
---
"Personal," Rockky B (feat. Lex, TYuS)
Something delightful and '80s-flavored appeared in my inbox recently and I feel compelled to share it with anyone who'll listen: Rockky B, an emerging rapper from the Portland area, just dropped "Personal," her first major single, on all streaming platforms. With perfectly delivered lyrical nods to Notorious B.I.G. worked into both Lex and Rockky B's verses, I'm not even sure what my favorite part of this song actually is. All I know is that I can't stop playing it. On an old-school beat produced by Pliv Beats and with executive production from David Ferguson (AKA @iamportlandkid), the sexually liberated hood anthem is packed with bossiness, bravado, punchy wordplay, and a honey-sweet chorus from Rose City R&B star TYuS, who, as one YouTube commenter pointed out, sounds like "a better Chris Brown." The corresponding visual, edited by Twix Williams, sees Rockky B and her sister Lex doing regular-degular shit in Northeast Portland: buying papers from the In N Out Food Market on Killingsworth; trading bars on an Albina district street corner; twerking on a car in a Moda Center parking garage; inside the Falcon Arts Community building (where XRAY-FM has its broadcast studio). A recent news release for the single notes that "Lex [and] Rockky B deliver an attitude and swag that has never been seen in the Rose City," and I'm actually inclined to agree? Other than maybe genderqueer rapper/singer/dancer Maarquii, I'm not sure I've seen another hip-hop from PDX bringing this kind of raw, freaky, dominant energy à la City Girls or Megan THEE Stallion. And it's about got damn time.
---
ICYMI: "UFO Daze," Brown Calculus
Right before Christmas, eclectic soul duo Brown Calculus released a new music video for their single "UFO Daze," directed and edited by Kamryn Fall. (If you liked Lizzo's viral TV-themed video for "Juice," you'll love this.) With references to Soul Train, the '90s sitcom Blossom, and even an infomercial (in which a Voodoo Doughnut makes a cameo), the whole retro visual is excellently edited, trippy, and hilarious—a true joy to watch. As with much of Brown Alice and Brown Calvin's catalog, listening to the song's unorthodox-but-groovy rhythm is a peaceful experience. (Be sure to also check out their recent-ish performance of the track on Banana Stand Media's live Unpeeled series.)
---
Myke Bogan, "Backwoods"
Still riding the rollout of his latest LP Cult Beauty, Myke Bogan just released a green-hued video for "Backwoods," directed by Timslew of Soundlapse. One of the things I love about Bogan's work is his ability to paint a picture with words and create a vibe. This song (and video) is the soundtrack to you trying to accomplish tasks, but instead rolling up, smoking, napping, fucking, watching Netflix, and getting otherwise distracted. Surely we can all relate.
---
Homeboy Sandman, Quelle Chris, Mic Crenshaw
Having signed a new record deal with Mello Music Group last year, New York underground rapper Homebody Sandman comes to town in support of his 2019 album Dusty, a project that offers the clever bars and technical delivery for which he's become known. (The Queens MC released First of a Living Breed with Stones Throw Records back in 2012.) The bill also showcases Detroit rapper Quelle Chris (a notable feature on Sandman's album), and Portland hip-hop pioneer Mic Crenshaw. (Sun Feb 1, Mississippi Studios, 8 pm, $13-15)
---
Reva Devito, Donte Thomas, Montel Spinozza
R&B/pop singer Reva Devito's Valentine's Day shows at Holocene are always a lovely time, but this year it's a pre-Valentine's show. And with V-Day landing on a busy fucking Friday this year, this gig might just be the move. Speaking of, let's hope the singer will be performing tracks from her 2016 EP The Move (like the title track, the Kaytranada-produced "So Bad," or "Babesquad"), as well as newer cuts from This Time, her album with B. Bravo under their joint project Umii. But mostly, I just need to hear her sing her sunny and sultry new single "Cali" with DJ/producer Young Franco. This show is pretty much guaranteed to be lit, since the bill also boasts support from Portland-based rapper Donte Thomas, whose 2019 project Colors was highly lauded from critics in the PNW region, as well as Montel Spinozza and art installations by Kue. (Wed Feb 12, 8:30 pm, Holocene, $12-15)
Sponsored
This 9th floor patio boasts stunning views of the city, three mountains, and Portland's West Hills.