What most surprised Emily Schaber about mixing her own fragrances was the sense of order it brought to her life. Living with a learning disability had made scheduling and organizing next to impossible, Schaber told the Mercury, but the intentional planning that perfumery required helped her break through some of those difficulties. She became a person who spent hours working on spreadsheet formulas.
"You have to be very intentional with perfume." Schaber said. "You can't just throw things in like the Swedish Chef. You have to really plan and have a vision—I'm constantly surprised by the results that yield from the effort you put in."
Schaber first began mixing perfumes for friends in the fall of 2019, as part of a plan to be more creative. Then, during the pandemic, she started a label called Shelter in Perfume as an outlet to escape lockdown—envisioning far-flung, wide open destinations. Now, she's considering how her label's inspirations have shifted, as most of the pandemic's public restrictions have expired. 
"I think less about the sort of daydreaming of being in other places, like 'Calgon, take me away!'" Schaber said, referencing the bath power ad catchphrase. "[Shelter in Perfume] probably has a broader sort of feel, like figuratively being out in the world in a wider scope. My mentors taught me to think of smells like characters in a play. Like if I'm doing The Wizard of Oz, I would reach for green Emerald City notes, for example." What she's reaching for is bright, colorful, and long-lasting, like the Technicolor transition from sepia in The Wizard of Oz. 
She aims to tell stories through notes and complications—appreciating the emotional reactions perfumery elicits. 
"I recently learned the sense of smell is the only sense stored in the brain's limbic system, that 'reptile brain' sort of thing," Schaber said. "It's the first sense we develop, and the last sense to go as we age. When you have a scent memory from high school or Grandma's house, you're not just remembering, but you're reliving that moment. That can be very powerful, if that's the only thing you have left to remember someone or something."
Despite recent scent-world controversy where Paco Rabanne used an artificial intelligence program to create a cologne that allegedly smells sexy to young men aged 18-35, Schaber doesn't think perfuming could be truly replaced by artificial intelligence.
"No one can accurately predict what ingredients will do until they mix them." she said. "No computer knows how ingredients will react and bond. It can analyze data, like molecular weight, longevity, chemical structure, and market trends, but with natural materials, scents can vary by a product's locations, growing conditions, supplier to supplier. One blood orange does not smell like another. I can't see how a computer can account for all of that."
In 2022, Schaber and perfumer Niles Ramadhin collaborated on Heartspark: a busy, glittery perfume the hue of glacial Gatorade. Drawing from a few too many references, Heartspark is a loud blast of dark flowers and juicy but contrasting fruits, founded upon powerful but conflicting base notes. The bombastic mix recalls a box of melted Otter Pops from a childhood summer at your grandparents's home.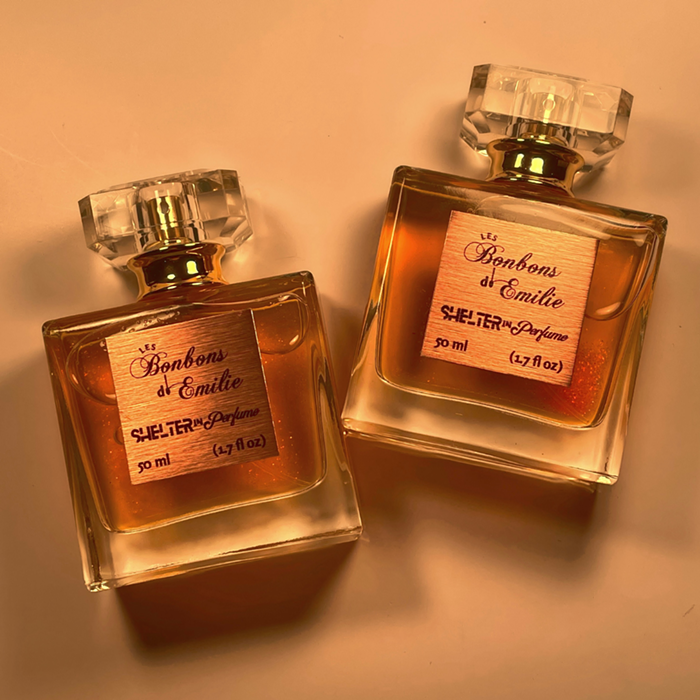 Ramadhin and Schaber's newest fragrance, Bonbons d'Emilie, is a comparatively more simple and coherent blend of orange blossom and citrus ingredients with gourmand standards like praline, giving off the impression of an orange scone at high tea. We noticed that, though the colors faded, both Heartspark and Bonbons left behind detectable marks on our white paper test strips, so you may want to be careful with them around light colored clothes. 
In March, Schaber will release a collection dedicated to her late cousin, an Auntie Mame-type character who traveled the world, bought expensive handbags and left behind no widower or children. Named for the ring her cousin left to her, Schaber's Ruby collection is a trio of variations with blackberry heart, often threaded by green apples and a bouquet of leafy green notes. 
Ruby Summer is the collection's ageless standout, inspired by her cousin's farmland childhood with its spring greens, green apple, rose and blackberry musk. Ruby Wonder is a more mature fresh pink grapefruit, green apple, blackberry, and rose. Ruby Spring, meanwhile, is far earthier: a green and blackberry remix of jasmine, orris (a waxy yellow resin distilled from iris bulbs and roots), white musk, slightly smoked cedar, and aged leather. The result borders on an industrial cleaning product, though Schaber is pleased with how the base conveys her spring awakening fable with melting snow and moist earth.
"The perfume tells you what it wants to do, despite your plans," Schaber said. 
Shelter in Perfume fragrances aren't available in brick and mortar stores yet. But like many indie perfume houses, Schaber is sustained by her digital customers and fans—through her Etsy store—and encouraged by her growing network of self-made scentmiths from across the country. Shelter in Perfume was recently added to Fragrantica, an online perfume encyclopedia, which Schaber and other indie houses consider a badge of honor.
---
Two other recently released local fragrances we recommend:
In Love With Everything from Imaginary Authors
Josh Meyers' newest olfactory novel is a beach read that begins with a bright burst of sweet sunscreen banana, maybe from the mix from tropical punch and sandalwood. The banana blast eventually fades into a more balanced mix of citrus and warm rose, along with a fanciful and trendy stardust note (it's probably whimsy, but might be a nod to glittery nose candy). Even though In Love With Everything is set in the '80s, it smells like the innocent opening of modern Miami girls' trips, like Spring Breakers, Zola, and Real Housewives.
Le Marais from Running Late Apothecary 
Just released this past September, Sita Waters' newest travel-inspired fragrance, Le Marais, was inspired by Paris' Marais neighborhood. Waters explained Marais is home to much of the city's LGBTQ+ culture and reflects modern Paris because its residents "shun some of the stuffier old ways of being." The frangrance serves up Jenny say qua fantasy thanks to an enigmatic blend of rose, fresh-cut grass, and galbanum. A smoky resin from a yellow Iranian flower, galbanum brings the haze without relying on more stereotypical tobacco, resulting in a lingering, androgynous freshness.