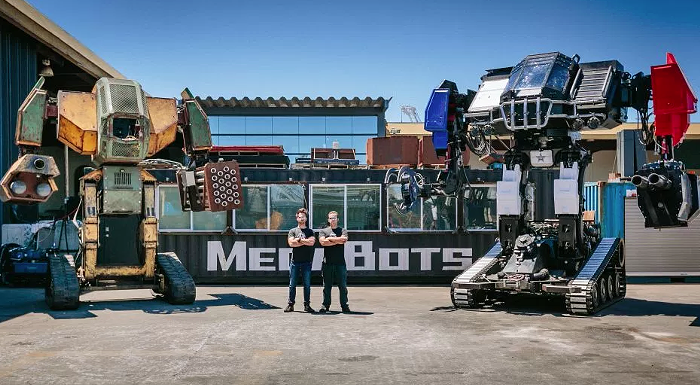 Since the dawn of time, human beings have wanted primarily one thing: TO WATCH GIANT ROBOTS KILL EACH OTHER. Tonight that dream will finally become a reality as the USA takes on Japan in a giant robot fight to the death on Twitch at 7 pm PST.
America's entry for this battle is the 16 feet-tall robot from Megabot called "Eagle Prime" (because aren't all eagles armed with chainsaws and paintball cannons?). It's powered by double Corvette engines, and requires two human pilots to navigate the hulking beast. Meanwhile Japan will be represented by Suidobashi and their 13 foot-tall, 9,000 pound Kuratas, which while smaller and lighter than Eagle Prime, it will also be considerably faster.
The event itself already took place in September over a few days in a Japanese warehouse, and tonight you will see the entire battle with all the boring, non-violent stuff edited out. But if you're expecting an epic, cinematic-style fight that may or may not include Mark Wahlberg, now might be a good time to manage your expectations. From Newsweek:
"If you go into this thinking it's going to be a Transformers movie, you're definitely going to be disappointed.… " MegaBots team said at a Reddit AMA Monday.

"There's so many fictional depictions of giant robots, and so many different subcultures, that it's pretty impossible to not disappoint some cross-section of that fan base. What underlies those universes, is that you are piloting a humanoid robot capable of combat. That is what is truly fun about this," they added.
Check out that Reddit AMA for more info on the bots, and the creators' hopes for a future robot fighting sports league. And don't forget to check out the ROBOT BATTLE OF THE AGES tonight on Twitch at 7 pm.
TOMORROW.

🇺🇸🤖 USA vs. 🇯🇵🤖 JAPAN IN A GIGANTIC ROBOT DUEL FOR THE AGES! #GiantRobotDuel https://t.co/JLIXL7FoGI pic.twitter.com/YmmNORrHuh
— Twitch (@Twitch) October 16, 2017