The Design Issue 2016
WE ALL HAVE THEM: a prized pair of jeans. They're worn in just the right places, hug the right curves, fit like a second skin. We are vigilant when washing them (if we wash them at all). They've lasted longer than any of our relationships. We avoid thinking about the day when the zipper will break or the crotch will rip, when we will mourn them deeply, like a dead pet whose love we're sure we'll never replace.
Why? Because it's impossible to find a goddamn pair of pants that fits.
Crystal Beasley is changing that. Beasley is CEO of Qcut, a new Portland-based company that boasts more than 400 sizes of jeans. Unlike other jeans retailers, Qcut takes into account five data points: height, weight, shoe size, bra size, and the size of your beloved favorite pair of jeans.
One reason we cling desperately to our perfect pair of pants is that they're so rare to discover. Many women enter a dressing room resigned to compromise: One pair fits in the butt, but is baggy in the waist. Another sits nicely on the hips, but the length is all wrong. Many women think the same thing: It's their fault. It's our own unruly curves or torso that makes finding a "perfect" pair so unachievable.
I talk about this with Kiki Ledbetter, a Qcut store associate who helps fit me for jeans at their pop-up shop on SW 11th and Alder (there through May 31; qcut.com). After I've given her my measurements—data that will be fed into the algorithm Qcut uses to pinpoint their revolutionary sizing—Ledbetter selects pants from a rack where they're tagged with labels like B506, E009, and LS11 instead of sizes like 8 or 14. She asks me how each section of the pants fit—thigh, inseam, butt, etc. I've never thought about pants like this before: I always thought I should fit the jeans, not the other way around.
"We want our clients to know that when they try on mass-market jeans that don't fit, it's not their bodies that are wrong, it's the industry," says Ledbetter.
Beasley, who's out to change more than dressing-room dread, echoes this sentiment. "It's an ugly industry that's broken at both ends." She witnessed firsthand the abhorrent labor conditions Cambodian garment workers experienced in Phnom Penh: malnutrition, mass fainting spells in factories, and government suppression when workers agitated for better working conditions, among others.
Qcut's $235 price tag may seem hefty at first, but not when you consider the hidden costs of a $40 pair from Old Navy: unethical offshore labor, mass-produced materials resulting in limited-range sizing, and untold environmental damage—the garment industry is one of the highest polluting industries in the world, second only to oil. Qcut jeans are made in the United States by workers paid a living wage. Since they're made to order, there is no excess production or needless sizing. And they're made to last, not fall apart or stretch out to encourage a follow-up purchase. "It's a big ambition," says Beasley, "but I really want it to change the whole apparel industry."
---
Crystal Beasley: Why Does the Factory Dictate the Product? Futureproofed: Building a Company Worth a Damn
Main Stage Talks at Revolution Hall, 1300 SE Stark, Sat April 16, $395 general admission for Fri and Sat lineup
Sponsored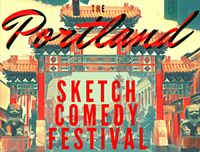 Sketch comedy troupes from all over N. America descend on The Siren Theater for 3 glorious nights.