The Holiday Food & Drink Spectacular!
Oregon's talented winemakers are increasingly appreciating the diversity of grapes that the state has to offer. Time to leave the pinot comfort zone and discover some of the other exceptional wines suited for your holiday table (for under 30 bucks a bottle).
Sponsored
Sketch comedy troupes from all over N. America descend on The Siren Theater for 3 glorious nights.
Gamay
Gamay is a red grape that for many years was considered the poorer relation to pinot. But recently it's thrown off its underdog reputation and now flirts with stardom. Famed in the French region of Beaujolais, it's also making its mark in the Willamette Valley. Thematically allied to pinot, gamay is generally lighter-bodied, fresher, and juicier. For quality at a good price, try Bow & Arrow's 2017 Gamay ($18.99 from Liner & Elsen, 2222 NW Quimby).
There's also a fruity, super light version called gamay nouveau, which is released every third Thursday of November as a celebration of the end of harvest. The likes of Division Winemaking, Fausse Piste, Fossil & Fawn, and Anne Amie will all have nouveau wines on offer while they last (all from Southeast Wine Collective, 2425 SE 35th Pl).
Riesling
You may have seen Riesling at the Thanksgiving table—it's the one your aunt brings over and polishes off while the game is on. It will also be sickly sweet, but you want dry or off-dry versions. Brooks makes some 20 Rieslings in different styles, all sourced from different vineyards. The Willamette Valley 2016 Riesling ($20, brookswine.com) is a good place to start. Ovum is a small-batch label that's also serious about Riesling. Their 2017 Off the Grid Riesling ($24.99, from Liner & Elsen) has a lovely, dense mouth texture, along with flavors of citrus fruit and stone. It's particularly good with stuffing, squash dishes, and root vegetables.
Orange Wine
Orange wines are a kind of curious hybrid between red and white styles. They have a unique flavor profile that can make an excellent accompaniment to food, making for an alternative to lighter reds or richer whites. Viola Ramato 2017 Pinot Grigio ($21 from Viola Wine Cellars, 2901 NE Alberta) is a milder example of an orange wine, but its distinctive fruit punch and olive brine flavors are a fitting match for fall salads and vegetable casseroles.
For something with more verve, the Fossil & Fawn 2017 Pinot Gris ($27 from 1856, 1465 NE Prescott) has intense red fruit flavors along with the structure and tannins found in red wines. Dry, with citrus fruits and a zingy acidity, it'll love lighter meats such as turkey and ham.
And more...
Gewurztraminer's are crisp, aromatic whites that have a tropical character that actually sits well on the Thanksgiving table. Try Teutonic's Crow Valley 2016 Gewurztraminer ($23 from Teutonic Wines, 3303 SE 20th). Leah Jørgenson is the queen of cabernet franc, a red wine that can sometimes be too "green" for the sweeter notes of much of your typical holiday foods. In her hands, though, it's bright but concentrated, with blackberry fruit and tobacco. Her 2017 Cabernet Franc ($29 from Corkscrew, 1665 SE Bybee) is an excellent value.
A personal favorite right now is Fran-chere's 2017 Cascadia ($20 from Mom & Pop Wine Shop, 6908 NE Sandy). This is 90 percent pinot, but the other 10 percent make a real difference: Grüner Veltliner (a white grape), gamay, and a dash of syrah combine for a medium-bodied wine that's spicy and earthy with a great zingy mouthfeel.
Finally, what about all those holiday sweet treats, candies, and chocolates? They'll need a dessert wine. Famed producer Elk Cove has a second label, Pike Road, which produces a cracking sweet wine. The Route 47 ($25 for 375 milliliters, from Pike Road Wines, 105 W Main, Carlton) is a blend of three white grapes that resounds with flavors of pear and apricot, making for an ideal end to your meal.
Sponsored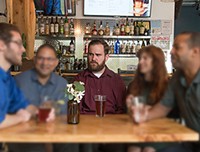 Adults aged 18-35 with good hearing will be paid for their time. Located at the Portland VA Medical Center