The Last Best Summer Ever
We've got an old poster at the Mercury offices that bills Pedalpalooza as "Two+ weeks of bikey fun."
Sponsored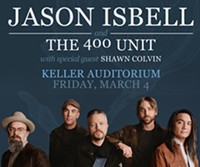 Jason Isbell has established himself as one of the most respected songwriters of his generation. Don't miss Jason Isbell and the 400 Unit, March 4th at Keller Auditorium!
That was 2009, though. In 2017, Portland's premier celebration of bicycle culture goes all damn June. From the first to the 30th, you'll have your choice of hundreds of thigh- and liver-straining social events to help you fall in love with the city all over again. (Or for the first time—hey newbies!)
As usual, this year's lineup offers some old favorites and some bizarre, intriguing upstarts. We've gone through an entire month's worth of events, and while we as always encourage you to do as much or as little as you feel, here are the Mercury's picks.
---
Thursday, June 1
Pedalpalooza Kickoff Ride—We will never not pick this populous, traffic-obstructing joy train. It's the best possible introduction to everything the month has in store. Ride begins at Salmon Street Fountain, SW Salmon and Naito, 7 pm
---
Friday, June 2
Right 2 Dream Too Bike Move—Maybe you heard well-respected homeless rest area R2DToo is moving across the river? Spend a good chunk of your day helping it do so the only proper way—by bike! R2DToo, W Burnside and 4th, 1:30 pm
---
Saturday, June 3
PedalKAZOOLA—We agree with the proprietors of this ride that a rolling mass of people jamming away on kazoos and harmonicas can only be a good thing for the fabric of this city. Someone bring one of those cylindrical novelty noisemakers they hand out at kids' birthday parties to punctuate the affair. Ride begins at Sewallcrest Park, SE 31st and Stephens, 3:30 pm
---
Monday, June 5
Rose Quarter Freeway Protest Ride—Legislators want to spend millions widening Interstate 5 through the Rose Quarter. Plenty of people rightly point out that there are better ways to decrease congestion—like making it easier to bike, walk, and take transit. Feel like protesting? Do it. Ride begins at Lillis-Albina Park, N Flint and Russell, 4:30 pm
---
Wednesday, June 7
Prince4Ever—In this, the first year that the Prince vs. Bowie ride has been discontinued, only the Prince contingent—the worse contingent—had the gumption to pick up the banner. Still, Prince could jam. Ride begins at SE 9th and Burnside, 8 pm
---
Thursday, June 8
Onesies and Twosies—This is the type of oddball theme ride the month was made for. Dress in your best onesie and tour dive bars that serve drinks costing $2 or less. *Italian chef kiss* Ride begins at the Yamhill Pub, 223 SW Yamhill, 5 pm
---
Saturday, June 10
Pasta Costume Ride—Much like our last pick, we just really appreciate the idea of people gluing pasta to their clothes and riding bikes in the middle of the day. Pasta provided, but bring your own sauce. Seriously. Ride begins at Irving Park, NE 7th and Fremont, 2:30 pm
---
Friday, June 16
New Orleans Jazz Funeral—Honor the victims of traffic violence by putting on a Big Easy-style memorial. This starts as a march, but will end in a bike ride. Ride begins at City Hall, 1221 SW 4th, 6 pm
Dropout Prom Ride—One of those not-to-be-missed yearly occurrences that's just what it sounds like. Crimp that hair! More tulle! Ride begins at Col. Summers Park, SE 20th and Belmont, 9:30 pm
---
Saturday, June 17
The Princess B.Ride—Find a big black cloak or a fake sixth digit and ride around celebrating the finest piece of cinema ever made. Ride begins at Irving Park, NE 7th and Fremont, noon
---
Saturday, June 24
Gathering at Gateway Green—Portland finally has a mountain bike park [see article, pg. 27]! Bring your most robust steed to check out the fun that awaits at the brand new Gateway Green. Gateway Green, NE 102nd and Halsey (entrance off the I-205 Multi-Use Path, just north of the Gateway Transit Center), 11 am-4 pm
Bernie Sanders Historical Ride—A sad yet fanciful affair in which you'll tour the Portland that might have been, had Bernie won the 2016 election. Ride begins at Moda Center, 1 N Center Court, 2 pm
World Naked Bike Ride—Obviously. Starting point at Fernhill Park, meet at 8 pm, ride at 9 pm
---
Friday, June 30
Loud and Lit—The raucous exclamation point to Pedalpalooza every year, and a damn fine time. Ride begins at Irving Park, NE 7th and Fremont, 9 pm