The Portland Dive Bar Preservation Society
THE CURRENT BAR MANAGER wasn't even born when SE Hawthorne's Watertrough Saloon first started doing business in 1977. That's when former owner Don Hoxmeier, then in his 30s, made the dark little hole-in-the-wall his new home. Within a few years he'd see customers slink in from the Mt. Tabor Theater next door after watching softcore like The Story of O.
Sponsored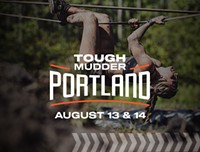 Lock in your summer adventure, Portland. Join us for world famous obstacles over a 5K or 10K distance.
For almost four decades, Hoxmeier worked at the wood-paneled saloon nearly every day until he finally hung up his bar towel in September 2013, handing over the reins to whippersnappers who were eager to keep his dive bar alive.
That's when Julianne Rogers, 26, enters the picture. As the Watertrough's new bar manager, she's stoked about the watering hole's storied history and even more so about its shining future. Girl has plans! The place is cleaner than it's ever been—"It takes a woman to see where the dirt is"—and there's now even a window opening into the formerly claustrophobic confines. She also has dreams of taking out the dropped ceilings to reveal the hidden two stories above.
But fret not, lover of dark 'n' divey—the wood paneling isn't going anywhere, the floor's still uneven as fuck, there are "new" booths from recently shuttered Sewickly's, and the retro fireplace still roars. The Watertrough's 1970s time capsule doesn't seem like it's going to suffer from a New Portland makeover anytime soon. It's still a beautiful den of iniquity.
That area of SE Hawthorne has long been a bustling zone, ever since the early 20th century when two streetcar lines met at SE 50th and a thriving commercial district erupted, creating the proto-Barmuda Triangle. According to the Oregonian, after a stint as an ice cream shop, the Watertrough location has been a bar since as early as 1966, when Scotty's Blue Bell Tavern was caught selling booze to minors. In 1968 a want ad asked for an "attractive" barmaid for M'Lords Beer Lounge. The bar notched another selling-to-minors infraction in 1970, when it was Margo's Tavern. Margo's own lingering needs for comely barmaids lasted up through 1977. And that's when Hoxmeier—most likely sporting one of his trademark polyester shirts—took over. The first public mention of the "Watertrough Saloon" is in the O's want ads for a bartender on June 10, 1979: "Neat & attractive, exper. preferred."
From its opening, the 'Trough has drawn a loyal following. Serving just beer and wine under Hoxmeier's keep, Rogers describes it as a place that was kept preserved from time—and daylight. "He loved the cave. Just crawl into the 'Trough and hide from our wives," she says. That sense of preservation is borne out by a trip to the bar's expansive basement, which is filled with years and years of bar swag like ashtrays, old signs, and beeper clips. "One of the first things I uncovered was a stack of 50 to 60 Penthouses and Playboys," Rogers says.
Hoxmeier sold the bar to neighborhood-kid-turned-entrepreneur Sam Johnson. "Sam grew up on this block, and when Don said he was ready to retire and sell it—but he didn't want to sell it to anyone who wasn't part of the community—Sam jumped on it. [After the sale, Sam] ran straight to the liquor store because Don never did liquor." Even now Hoxmeier sticks to beer when he comes in regularly—still sporting his tube socks and short shorts.
Other than some niceties (hoodies for sale! New toilet seats in the ladies' bathroom! Beautiful murals by John Wray!), this dive is evergreen. "I like old things, but they just need to be dusted off and taken care of," Rogers says. "I know a lot of people aren't happy about development in Portland, but I don't think that means we have to lose character and community. The family's just growing."
There's even fresh décor. "One of our regulars brought in a beautiful five-point buck that he said was too big for his house," Rogers says, referring to the majestic taxidermied head on one of the wood-paneled walls. "Dogs bark at this."
I can see why. The buck has a unibrow, furrowed into a furious scowl that overlooks the pool tables. "Our regular says he shot the buck while he was mounting a doe. He shot him in the butt. He died with a woody."
Don't expect the same of the 'Trough—sure, it's getting a shot in the butt, but it's only going to make it stronger. "The Watertrough's going to be around for a long time."