Theater artist Siobhan O'Loughlin broke her hand and fingers in a bad bike accident in 2014. The doctor told the New York–based artist to wrap up her giant cast in a plastic bag when showering, but O'Loughlin was anxious about doing that "because I'm an anxious person," she says.
Sponsored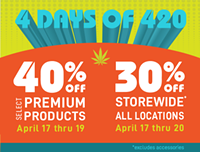 30-40% off Premier Dispensaries April 17-20
Flower, pre-rolls, edibles, carts and more.
These 4 Days of 420 are for you.
So she thought to take baths instead, but a major problem presented itself: She didn't have a bathtub.
Out of desperation, she called up friends to ask if she could use their facilities. They graciously accepted, and soon she was bathing in every borough in New York City. Her friends offered more than just their tubs. Some bought her wine and chocolates. Some made her dinner. Some just cleaned up the bathroom real nice. "They gave me so much kindness and generosity," she says. "They helped me heal."
Her "literally immersive" one-woman show, , emerged from this experience. O'Loughlin originally intended the performance to be a 30-minute monologue composed largely of her journal entries from the time of the accident. But during the 2015 premiere in an Airbnb in Tokyo, Japan, she realized it needed to be much more interactive.
"The audience's knees are up against the tub, where I'm naked, covered only with bubbles. And they're giving me a bath. They're washing my hair. As I shared my stories, people began to share their stories. It turned into this hour-long immersive experience," she says, laughing again at the pun, which is excellent and completely inescapable.
"The audience took on the role of being my good friend. I was so nervous and so scared and afraid of being judged. I felt more vulnerable than I'd ever felt as a performer. But it was a natural experience. We were all problem-solving different kinds of trauma. We were talking it out—talking about what these feelings do to us, how we get through them, and how we don't."
Since then, she's performed Broken Bone Bathtub in strangers' bathrooms all around the world. She's traveled to five countries (even the Isle of Man!) and toured several cities in the United States. In St. Louis, she told her story from a lavish marble tub in the Lemp Mansion. In Minneapolis, she did it in a pink-and-gold bathroom near a sink faucet that looked like a swan. In Seattle, she celebrated the show's 300th performance. Audiences generally range from five to 15 in number, and from seven to 80-something in age. Though she is naked, O'Loughlin says it's pretty PG. "You might see a boob—I can't promise that you won't. But it's a piece about vulnerability, so there's not a lot of exhibitionism going on," she says.
On the event website, you can see the four neighborhoods where the show will run, all in North or Northeast Portland. The exact locations are revealed to ticket holders only but there are notes on which homes have pets (for those with allergies), and which ones are wheelchair accessible. Show up early and prepare to sit in cramped quarters on little stools or on a commode. "Sometimes it's the best seat in the house," she says.