Thank god, summer is almost over. Sure, sunshine and margaritas are nice and all—but the summer theater world is by and large a barren and desiccated place, as many companies go on hiatus for the bulk of the summer.
Thus it was with a tremendous sense of relief that I approached Theatre Vertigo's production of Henrik Ibsen's A Doll's House—what better way to start the season than with an engagingly adapted standard from one of Portland's most consistently satisfying companies.
Director Mary McDonald-Lewis has set Vertigo's production in the US of the 1950s, rather than the Victorian Norway of the original. The '50s aesthetic, coupled with Paul Walsh's engaging translation, results in what is easily the most accessible version of A Doll's House that I've seen.
Nora (Amaya Villazan) is a vivacious wife who excels at manipulating her husband, Torvald. What Torvald doesn't know is that Nora owes a substantial amount of money to one of Torvald's employees, Krogstad. When Krogstad attempts to blackmail Nora, her faith in her husband is revealed to be misplaced, upending her most fundamental assumptions about the world, and her role in it.
Garland Lyons' Torvald seems to have been cast for the likeable pomposity he brings to the role—in the first act, he's perfectly self-important, yet utterly oblivious to the true dynamics of his household. His performance flags toward the end of the show, however; when Nora's betrayal has been revealed, his one-note anger rendered even more monotonous by overzealous blocking. Lyons could take a cue from Darius Pierce, whose performance as Krogstad is an exercise in restraint, hinting at depths of passion and unhappiness beneath a tightly controlled exterior.
The show hinges on Villazan's Nora, and she pulls it off deftly, portraying a woman who is so defined by her looks and charm that her native intelligence is exercised only as feminine guile. It is one of the reliefs of Ibsen's script that Nora doesn't end up under a train, or poisoning herself, at the end of this show; rather, Villazan's ultimate assertion of independence is a compelling testament to the importance of, as McDonald-Lewis puts it in her liner notes, "respond[ing] authentically to each other, and to the world around us."
Sponsored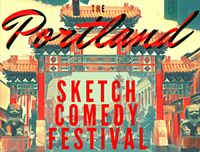 Sketch comedy troupes from all over N. America descend on The Siren Theater for 3 glorious nights.