Hailed by many as Tom Stoppard's best play for its mixture of intellectual wit and humanity, Arcadia is a wholly pleasurable theater experience. Set in the English manor Sidley Park in both the early 1800s and the present day, the play intertwines the vastly different periods through its exploration of mathematical theory, historical mystery, and sexuality.
Throughout the play, the scenes alternate between the two periods at Sidley Park to highlight the perils in determining events of the past. Within the first act, in 1809, it comes to light that the young lady of the house, Thomasina, is a brilliant mathematician. Her tutor, Septimus, is a brilliant seducer, and because of his affair with the wife of another guest of Sidley Park, he is to meet her husband, Lord Chater, for a pistol duel.
In the present-day Sidley Park, three scholars are at work on varying projects based on the history of the manor. As they all pore over the contents of the manor's library, they discover just how interrelated their projects are. The crux of the play lies in their solving the interconnected mysteries of who killed whom at the duel, the identity of the hermit of Sidley Park, and why Thomasina's genius was never realized.
With all of its intricacies, Arcadia is certainly not an easy play to pull off, but Lakewood Theatre manages with hardly a wrong step. Lakewood's production of Arcadia was intriguing before the play began: The set was absolutely flawless in design—furnished with just a table and chairs and a teacher's podium, it perfectly evoked a wood-paneled study in an old English manor. Similarly, the sparse lighting and sound cues were effective in their simplicity.
Throughout Arcadia, Stoppard's dialogue is so quick and sharp that the audience is forced to the edge of their seats to not miss a beat. Beautifully managed by the silvery-tongued Paul Angelo (Septimus), the lines are delivered with great comic timing in a natural-sounding British accent. Equally enjoyable were the comedic skills of Don Stewart Burns (Lord Chater) and the more serious ensemble Todd van Voris (Bernard), Jamie Rea (Hannah), and Jonah Weston (Valentine). Finally, Chelsie Kinney (Thomasina) is very believable in her role, but her shrill English accent needed toning down. Nevertheless, Lakewood Theatre has crafted an engaging and altogether enjoyable theater experience with Arcadia.
Sponsored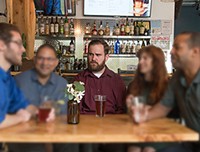 Adults aged 18-35 with good hearing will be paid for their time. Located at the Portland VA Medical Center