Local comedian Andy Wood is the founder of Bridgetown Comedy Presents, a title under which he's booking amazing comedy around Portland. In March, Wood and friends pulled off the three-day Bridgetown Comedy Festival, which hosted comedians like Patton Oswalt, Eddie Pepitone, and Tig Notaro. This rad festival will go on annually, but in the meantime Wood is presenting smaller one-night-only shows at venues like Berbati's Pan and the Bagdad Theater (see myspace.com/bridgetowncomedy for details). Go Andy! Now let's ask Portland's own comedy czar a few questions.
MERCURY: Why do you think comedy has come back into style so quickly?
WOOD: It's probably all MySpace and Facebook. I think the distance between comics and their fans has become a lot shorter, because they're actually talking to each other on the internet. Even though I don't like Dane Cook that much, he's a good example. He did an amazing job of marketing himself on MySpace and writing back to his fans right away. So if you like comedy, you might have been pulled in by Dane Cook, and then a couple years later you found Patton Oswalt and a whole bunch of other great comics.
Give us an overview of what Bridgetown Comedy Presents is and will be?
I'd like for it to be the go-to name for comedy in Portland. When people see it's us putting on the show, they'll know it's someone good that they probably haven't seen before.
How do you stay updated on what great new comics are performing across the US?
Aspecialthing.com is a whole alternative comedy community.
Is that what you call the type of comedy we're talking about? Alternative?
People who don't like the word "alternative" like to say, "What's the alternative to comedy? Tragedy?" I hate people who say that, because they know exactly what the term is supposed to mean—it's an alternate form, not the fucking opposite. No one's going to alternative comedy shows and hoping to sit stone-faced.  It's funny stuff, it's just not hacky, pandering, lowest-common-denominator comedy.
Sponsored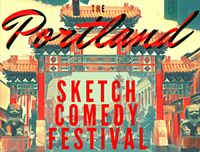 Sketch comedy troupes from all over N. America descend on The Siren Theater for 3 glorious nights.