In Portland, we're set in our ways. There's always stuff going on, but it's the same stuff that happened last week or last month or last year. First Thursday. Last Thursday. Musicfest NW. Ohhh, another restaurant opened by Bruce Carey. Another Band of Horses concert. Another film fest where everything is filmed by bike. I know, I sound like a curmudgeon, but I can't get excited about the same thing again and again... unless we're talking about my "Katie-and-two-bodybuilders" fantasy, but that just never gets old.
Anyhoo, it's time to get excited. It's time to put on your going-out jeans and that slutty tank top you've been dying to wear and head for SE Hawthorne, because Portland's hosting something new. This Thursday through Saturday, March 6-8, is the first annual Bridgetown Comedy Festival, starring all sorts of hot and hilarious comedians, who are making the trek to Stumptown from all over the country. There's Patton Oswalt, Eddie Pepitone, the dudes from the "Guys with Feelings" podcast, and the Andy Kaufman Award-winning comic Brent Weinbach. There are loads of comedians who've performed on Comedy Central, including Tig Notaro, Jonah Ray, Michelle Biloon, Howard Kremer, Bush-impressionist James Adomian, and Natasha Leggero. There's Jerry Seinfeld's little brother Chip. There are Portland natives Matt Braunger, Morgan Murphy, Rylee Newton, The Famous Mysterious Actor's Show Players, and festival organizer and comedian Andy Wood. And there are tons more.
I know I'm throwing a bunch of names at you and you might not know any of them, but answer me this: Do you like to laugh? Do you like to drink beer? And do you want to be part of Portland history? If you answered yes to one or all of these questions, it's time to go online to bridgetowncomedyfestival.com and buy your $20 three-day wristband. If you're broke, each individual show will cost you $9 at the door, but then you'll miss out on comedy show-hopping from the Mt. Tabor Legacy to the Bar of the Gods to the Eagles' Lodge to the Hawthorne Theatre. And there's also the risk that you won't get into the more popular shows, like Patton's Saturday shows at 8 and 10 pm at the Mt. Tabor.
It's my thought that Portland and comedy will enjoy a long love affair, starting this weekend. After all, we are a low-budget town filled with prankster hooligans, so what better place to become the West Coast's new comedy hub? And even though one day the Bridgetown Comedy Fest will be old hat, you'll always be able to say you were there when it started.
Sponsored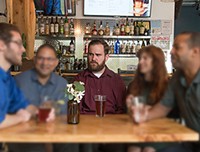 Adults aged 18-35 with good hearing will be paid for their time. Located at the Portland VA Medical Center