The theme of the Portland Opera's 2007-2008 season is "Great Women of the Stage." Indeed, this year's operas include the greats—Carmen, Rodelinda, Aida, and... Cinderella? I will admit some Cinderella-related skepticism at first, but, considering Gioachino Rossini (The Barber of Seville) penned this opera, and that Rossini's version differs slightly from the fairy tale, I arrived with great expectations. Reportedly, Rossini wanted no magic in his operatic version of the story; unfortunately, magic—literal and figurative—is exactly what this production is lacking.
In Rossini's account, Cinderella has two horrible (yet amusing) stepsisters, while her true bane is her stepfather (no stepmother here). Relegated to wearing rags and serving her stepsisters, Cinderella is dismissed as "below a servant" by stepdad Don Magnifico. When the family hears that Prince Ramiro is not only throwing a ball but also searching for a bride, Cinderella is summoned to help her sisters primp and preen. When she asks Don Magnifico if she can attend the ball as well, he scoffs and leaves her to her mop and bucket.
Besides the fairy godmother (here a ragamuffin) and the glass slipper (here a set of matching bracelets), the rest of the story sticks to the traditional script. Cinderella arrives at the ball in unimaginable splendor, shocking her stepsisters and nabbing the prince's heart. The production, however, boasts little splendor. Granted, the Portland Opera's sets typically display a sophisticated minimalism. The stage of Cinderella, however, appeared much too sparse. This production lacked even the illusion of spectacle.
Cinderella, however, is probably a fitting introduction to opera; it's a good one to see with your mother when she's visiting from out of town; it's appropriate for a Sunday matinee. A comedy, Cinderella doesn't really have much at stake. If you're looking for magic in an opera—something that Portland Opera is certainly capable of generating—this is not the right show for you. I'm eagerly anticipating Rodelinda, the next production on the schedule. That should be one for seasoned operagoers, one fitting for a Friday night show, and one where an appropriate date is someone you'd like to bang in the back seat (ideally not your mother).
Sponsored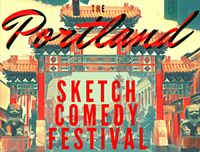 Sketch comedy troupes from all over N. America descend on The Siren Theater for 3 glorious nights.