Not since their 2001-2002 season has the Portland Opera produced a French-language opera. For their foray back into French, the company opted for a production of Charles Gounod's Faust. Gounod's opera, immensely popular ever since its Paris premiere in 1859—so much so that it was the first-ever performance at New York's Metropolitan Opera House—was a clever choice.
For starters, the premise behind Faust, despite being well known, is unlikely to bore. Old codger Faust, a scientist regretful of devoting his life to books instead of beaver, stops himself just before ingesting poison (but not before denouncing God). Before he knows it, Satan, in the form of a fop named Méphistophélès, promises to restore Faust's youth. The price, of course, is eternal damnation. Faust, upon seeing local girl Marguerite, agrees and signs the contract. Instantly young again, Faust ventures into town in search of his love. In spite of Marguerite's eventual surrender to his advances, trouble follows.
The Portland Opera's set direction and lighting are invariably top-shelf, and in Faust, they're no less stunning. The choreography, too, including one scene involving an enormous Mother Earth puppet, was at times enjoyably reminiscent of Cirque du Soleil. The entire cast handed in impressive performances, particularly Mark Doss as the "dapper demon" Méphistophélès. The opera's in-house orchestra, however, was the undisputed star of the show. As compelling as the theatrical performance itself was, I kept anticipating the interludes.
The production I attended was unfortunately fraught with problems. First, the intended tenor in the role of Faust was indisposed on opening night, instigating an apparent rush to locate a replacement. Additionally, several of the set changes lasted an unusually long time, creating awkward pauses for the orchestra and audience. Regardless, the last-minute replacement in the lead role— not to mention the opera itself—was better than adequate. Ideally, if you attend either of this weekend's performances, you'll be treated to the Portland Opera's characteristic professionalism in what is, not surprisingly, one of the most entertaining operas of all time.
Sponsored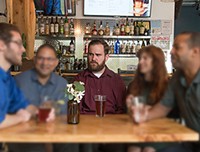 Adults aged 18-35 with good hearing will be paid for their time. Located at the Portland VA Medical Center