Contemporary operatic composer John Adams claims that during the two years it took to finish Nixon in China (completed in 1987), one of the more difficult tasks was to overcome his personal animosity toward his title character. Another obstacle (like any modern composer, I imagine) was to present a relevant work that traditionalist operagoers would respect. At the showing I attended, I noticed several aficionados rushing toward the exit after the second act, but I maintain that Portland Opera's Nixon in China is perfectly respectable nonetheless.
Nixon in China concerns Richard Nixon's 1972 visit to China and his subsequent meetings with Chou En-Lai and Mao Tse-tung. After a convivial arrival at the airport, the Nixons enjoy meetings and banquets with their generous hosts. The first act, despite its pomp and pageantry, did not stand out as spectacular. The second and third acts, however, are worth the admission price—when Nixon in China turns from just another history lesson into a thoughtful take on a world-changing event. Here, Pat Nixon tours a glass factory and visits (yes) Chinese swine; the Nixons attend a ballet; and Mao, Chou, Madame Mao, and the Nixons prepare for bed. These humdrum activities demonstrate the human side of world leaders; each full of their own fears and worries.
Despite earning an "A" for effort (any opera in English that doesn't sound like absurd musical theater is itself a feat), Alice Goodman's libretto never blew me away. Nor did the music in general ever surpass the grandeur of a Spielberg film score. Nonetheless, there is enough to recommend Nixon; the cast—especially Pat Nixon (Nancy Allen Lundy) and Madame Mao (Tracy Dahl)—was remarkable, and the sets (fittingly red and spartan) were effective.
Richard Nixon the politician may be deplorable, but Nixon the character—especially when interacting with Chairman Mao, Kissinger, and Chou En-Lai (some of my own contemporaries)—is fascinating to see on stage, his trials and tribulations of the kind that, as John Adams himself once said, "only grand opera could treat." WILL GARDNER
Sponsored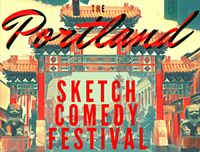 Sketch comedy troupes from all over N. America descend on The Siren Theater for 3 glorious nights.