Straight
Echo Theater, 1515 SE 37th, 224-8499
One Night Only, Feb 24, 8 pm
I've heard multiple staff members at the Mercury comment on how hot David Schmader is. I have now watched his one man show, Straight, twice on video tape, and I don't think he's all that hot. He's pretty good looking, I suppose, but his movements are slow and uncoordinated. I really think I could take him if that's what it came down to.
I'm reviewing his show out of respect for the writing he has done for Seattle's The Stranger, which is run by the same folks who run the Mercury. So he knows where I live, or at least where I work, and I can tell by his writing that he's smarter and wittier than me. If the opinions around here are universal, he's probably better looking too, but damn it I'm skinny and quick, and if it's a fight Schmader wants after reading what I'm about to say, then it's a fight he'll get.
That disclaimer said, I'll say one more: Video tape amplifies all that is annoying about speech, lisps, voice-cracks, stutters, etc. and muffles all that is beautiful about speech, like subtle emotional inflection and intonation. One should keep in mind that my mechanical, taped version of this work is not the medium through which it is meant to be seen. It is meant to be seen in a theater.
Some elements of the show, however, defy technological reprieve, such as Schmader's acting, which is so blatantly bland that even the thieving video camera can't excuse it. It's so bland that Schmader himself fesses up to it. He says halfway through his piece: "There's a reason I only do shows where I stand around and talk: I'm a terrible actor." Unfortunately, Schmader isn't an especially charismatic talker either. Indeed, everything about his performance--from his vocal patterns, to the way he snidely cocks his head after saying something funny--is utterly repetitive and lifeless.
Most of the time he sounds like he's just reading an essay, which in a way he is--an essay about his experiences with gay-conversion therapy. He actually went to a weekend retreat in Texas designed specifically to turn him away from sinful gayness, and towards enlightened, Godly straightness. Naturally, the kind of people who would organize and/or participate in such an event are ripe with comic possibilities, and Schmader's writing exploits them with the wonderful acerbic wit that made him such a hit with The Stranger. I especially enjoyed his insights into the "ex-gay" culture. Here's my favorite: "Watching ex-gays play football is like watching dachshunds swim--they can do it, but just."
That's great material. Indeed, Straight in general is very well-written, but it's just not a performance piece. It's a memoir. Yes, it's certainly possible to combine the two modes, but Schmader is not the one who should be doing the combining. And if he has a problem with that, I'm here. And I'm tough.
Sponsored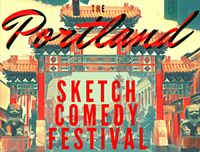 Sketch comedy troupes from all over N. America descend on The Siren Theater for 3 glorious nights.