Talley's Folley, Talley and Son
Profile Theatre Project, 3430 SE Belmont, 242-0080, Wed-Sat, 8 pm, Sun, 2 & 7 pm, through Oct 30, $13-28
Sponsored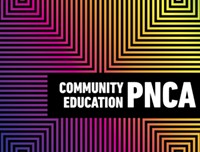 Online art and design classes at the Pacific Northwest College of Art now open for registration!
Talley's Folly and Talley and Son are the first two parts of Lanford Wilson's Talley Trilogy, their respective events occurring simultaneously within the small-town Missouri, World War II-era they inhabit. That being said, the Profile Theatre Project alleges to be the only theater company in history to actually perform them simultaneously, with actors moving between two stages. The gimmick isn't as interesting as it sounds—the two plays are treated as two separate performances (with two separate admissions) and, honestly, can each be seen without viewing the other.
I saw the Pulitzer Prize-winning Talley's Folly first. Set in the Talley family boathouse in rural Missouri, the scene has the lone liberal in the family, Sally Talley (Dierdre Atkinson), meeting secretly with Matt Friedman (Jim Caputo), her former lover. Friedman is a European Jew—taboo in 1940s Middle America—and is seen by Sally's family as a Communist pariah.
Wilson's Talley and Son takes place the exact same evening—July 4, 1944—and features Sally (still Atkinson) storming out of the house at the onset. Set in the family parlor up the hill from the boathouse, Talley and Son demonstrates the family tension between Sally's senile anti-Semitic father, his son, an eccentric aunt, and the house's washerwoman.
Talley scripts can be placed somewhere between Our Town and Picnic. They're certainly dated, but there's not much of a 1940s feel to either of the PTP productions, especially Talley's Folly. Atkinson's Sally, for instance, is quite modern, her delivery wrought with the forced sarcasm of a WB sitcom. Neither she nor Caputo exhibit much charisma, nor do they share any genuine chemistry; as a result, the 97 minutes drag.
If you're bent on seeing at least one of these works, make it Talley and Son. Somewhat soap opera-esque, it's nothing ingenious either, but it boasts better performances, notably from Stephanie Shininger as a neurotic in-law and Jean Miller as the eccentric aunt. Or you could stay home and read a good book.
Sponsored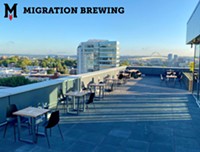 This 9th floor patio boasts stunning views of the city, three mountains, and Portland's West Hills.