As this issue of the Portland Mercury hits the streets, the Time-Based Art Festival will be in full stride, pulling into its final weekend of performances until this time next year. So far we've seen some incredible shows: Reggie Watts' Disinformation, Charlotte Vanden Eynde and Kurt Vandendriessche's Map Me, and Las Chicas del 3.5 Floppies from Mexico City. Alison even had her hair cut by a 10-year-old who did a way better job than some licensed "professionals" around town.
Sponsored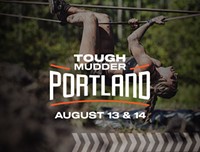 Lock in your summer adventure, Portland. Join us for world famous obstacles over a 5K or 10K distance.
But there are still four days left of the festival, and here's how we think you could best use them:
Thurs Sept 13, 6:30 pm: Nature Theater of Oklahoma—No Dice. In preparation for No Dice, this New York troupe recorded over 100 hours of private phone calls, which they have whittled down to a "short" four-hour piece. The actors are fed their lines via iPods, their costumes were scavenged from the children's theater where they rehearse in New York, and admission to this show includes a sandwich made to order by one of the actors. We're sold! CHAS BOWIE Art Institute of Portland, 1125 NW Couch, $20-25
Thurs Sept 13, 10:30 pm: Cartune Xprez. Tonight promises to be one of the highlights of the Works, with a full-on audio/visual spectacle guaranteed to tickle both your artsy bone and your dancing bone. The night opens with an animation program from Cartune Xprez, packed with quirky short works from folks like E*Rock, Bruce Bickford, and Amy Lockhart. After you've had your fill of tasty cartoons, stick around for music from Lucky Dragons, Hooliganship, Mean Age, and UNIVERSE. ALISON HALLETT Wonder Ballroom, 128 NE Russell, $8-10
Fri Sept 14, 6:30 pm: Claude Wampler. I don't want to give too much away here, but the last time I saw Wampler perform, she nearly started a mini-riot at the venue and was taken away by ambulance at the end of her show. This is supposedly the last performance before she retires, and everyone's keeping their lips sealed about it, but it's the piece I'm most looking forward to this week. CB Gerding Theater at the Armory, 128 NW 11th, $15-20
Fri Sept 14, 8:30 pm: Hand2Mouth Theatre—Repeat After Me. Portland theater collective Hand2Mouth is one of the most ambitious groups in town, consistently turning out work that utterly defies any preconceived notions about what theater is or should be. Repeat After Me is an exploration of the American character, as expressed through popular music. A wide range of music is drawn upon here to represent the American worldview, from the sentimental and nostalgic to the jingoistic and frightening. It was an amazing show when Hand2Mouth opened it in the spring—they've been working on it since, and it's sure to have only improved with time. AH Interstate Firehouse Cultural Center, 5340 N Interstate, $15-20
Sat Sept 15, 3 pm: Elevator Repair Service—Gatz. Sure to be one of the most talked about performances at TBA:07, Gatz is a seven-hour long reading of The Great Gatsby. The latest work by acclaimed ensemble Elevator Repair Service, Gatz isn't for the easily bored or the crunched for time. But fewer shows this year hold more intrigue; Elevator Repair Service isn't comprised of dummies, and they have no intention of locking you in a room and boring you out of your skull. Just what do they have in mind, then? There's only one way to find out. CB Imago Theatre, 17 SE 8th, $25-30
Sun Sept 16, 9 am-6 pm: Go see some art. It's a bit lower profile than the live-action components of TBA, but there's terrific visual art all around town as part of the festival. Don't miss Larry Bamburg's fantastic ceiling fan/tornado/dust bowl creation, Melia Donovan's highly impressive, nearly invisible "mural," or SuperNatural, a really solid group show juried by artist Arnold J. Kemp. CB Bamburg at Corberry Press, NW 17th & Northrup, noon-6 pm; Donovan at TBA Central, 224 NW 13th, noon-6 pm; SuperNatural at PNCA, 1241 NW Johnson, 9 am-9 pm, FREE
Sun Sept 16, 6:30 pm: Young Jean Lee—Songs of the Dragons Flying to Heaven. Songs of the Dragons frames itself as "a show about white people in love"—a simple synopsis that, given that Young Jean Lee is known as one of the most acerbic and relentlessly self-aware playwrights around, is hard to take at face value. Expect a complicated, hypercritical exploration of racial and artistic identity, couched in provocative and hilarious terms that eschew easy answers. My prediction: laughing, feeling uncomfortable about laughing, nervously hoping for racial bromides that never quite appear. AH PCPA Winningstad Theater, 1111 SW Broadway, $20-25
Sponsored
Virtual Auction Event & Drag Queen Fashion Show. You won't want to miss this show!