I'll be honest. I find the vocals to be one of the least interesting aspects of an opera—I am much more fascinated by the art direction, the lyrics, and the orchestra. The Portland Opera Studio's production of The Return of Ulysses—staged in the 150-seat Hampton Opera Center—makes it difficult to ignore the singing. The sets are sparse, a four-piece orchestra conducts the music, and the players are only a few yards away. In a case like this, the soprano will be able to see you napping in the third row. On the other hand, it's doubtful you'll be napping during this production.
Though I wouldn't call it a departure from their normal productions, the Portland Opera's staging of The Return of Ulysses is markedly different than those held at the Keller Auditorium. The word "intimate" is fittingly thrown around a lot to describe the atmosphere in the smaller space. With only four rows skirting the stage, one can actually see the beads of sweat on the baritone's forehead. As a result, the performance is more engrossing than one at the Keller, where, even from a good seat, it often seems you're watching the opera on a movie screen.
Claudio Monteverdi's version of The Return of Ulysses takes up just before Ulysses returns to his wife and son in Ithaca. Despite Ulysses' 19-year absence and the legions of suitors swarming her house, Penelope has remained faithful to Ulysses. Forces—divine and mortal—work to ruin their reunion. Fortunately for Ulysses, the goddess Minerva is on his side.
The Opera Studio is primarily an opportunity for young opera singers to cut their teeth on substantial roles before headlining on the main stage. It's also a splendid chance for operagoers to experience a less-detached night at the theater. Additionally, it allows for someone like me—one who is not enamored by the actual opera singing—to appreciate the vocal range of the soloists. Of course, I always recognized the inherent difficulties of singing opera, but never enjoyed the vocals as much as I did when I saw it in such a—yep—intimate setting.
Sponsored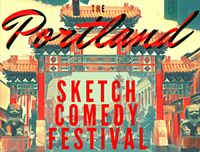 Sketch comedy troupes from all over N. America descend on The Siren Theater for 3 glorious nights.