Opening This Week

After the Zipper
This one contains a three-person orgy and full-frontal nudity...I...am...THERE. Stark Raving, at the CoHo Theatre, 2257 NW Raleigh, 232-7072, Opens Fri, runs Thurs-Sat 8 pm, Sun 7 pm, through Mar 2, $10-$20
Hal Foreen: Vinyl Vaccine
The product of an illicit affair between Buster Keaton and Moby, this show mixes silent scenes with music to create vignettes of comic delight. Brody Theater, 1904 NW 27th Ave, 224-0688, Fri-Sat 8:30 pm, through Feb 23, $10
St. Nicholas
The marvelous Ted Rosium stars in this meditation on sex, ennui, love, and vampires. Cygnet, at the Russell Street Theatre, 116 NE Russell St, 493-4077, Opens Fri, runs Thurs-Sat 8 pm, through Feb 23, $12-15
Triple Espresso, A Highly Caffeinated Comedy
Magic and theater mix in this reunion of the once-promising fictitious comedy team, "Maxwell, Butternut and Bean". Triple Espresso, at the Portland Art Museum, Portland Art Museum, 2nd Floor, 1219 SW Park, Tues-Thurs, Sat-Sun 7:30 pm, Fri 7 pm, Sat-Sun 3 pm, through April 21, $39-45, includes dessert and coffee
Where's Toto?
One-woman show by lesbian performer, Dorothy A. Hirsch. Stark Raving, at the CoHo Theatre, 2257 NW Raleigh, 232-7072, Opens Sat, runs Fri-Sat 10:30 pm, through Mar 2, $12
Closing This Week

Death of a Salesman
Looks like Willy Loman and the gang are back for one more round of failure and depression! Jack Oakes Theater, 2820 NE Sandy Blvd, 238-9692, Opens Fri, Thurs-Sat 8 pm, Sun 7 pm, through Feb 2, $10
Current Runs

The Bottom Rung
Sketch comedy with vampires, wrestlers, secret agents, ninjas, and much more. The Bottom Rung, at the Back Door, 4319 SE Hawthorne, 231-8191, Fri-Sat 10:30 pm, through Feb 16, $6
* Art
Art is probably the least original production that a theater company could do outside of Romeo and Juliet, but there's also a reason why so many companies continue to do it year after year anyway: It's a crowd pleaser, and it has some ideas to throw around. The premise of Art is simple: a well-to-do man buys an all-white painting for a great sum of money, then spends the rest of the play defending himself to his friends. The play really does make you reconsider the boundaries of what art can be, and it's very funny, and it even touches with surprising profundity on the delicate nature of friendship. The three actors in A.R.T's production, Allen Nause, Tim True, and Michael O' Connell, are all impressive, and the direction by Dennis Bigelow is as tight as can be. You will, at the very least, be entertained. Artists Repertory Theater, 1516 SW Alder St, 241-1278, Opens Fri, Wed-Thurs 7 pm, Fri-Sat 8 pm, Sun 2 pm, through Feb 24, $16
Ashes to Ashes and A Kind of Alaska
Profile continues their season of Pinter with two of his later one acts. Alaska, about a woman who wakes from a 29-year coma, has an extremely unoriginal, but still intriguing premise that is ruined by a one-note performance by Jean Miller as the woman. Ashes, a trippy study of the final hours in a dysfunctional couple's relationship, fares slightly better thanks to the comic timing of Don Alder. Neither play, however, is entertaining enough to warrant being pointless.
Driving Miss Daisy
Aging, crotchety, white Southern lady meets proud, soft-spoken black man in this Pulitzer-Prize winning heart warmer. Triangle Productions, at Theater! Theatre!, 3430 SE Belmont, 239-5919, Opens Fri, Thurs 7:30 pm, Fri-Sat 8 pm, Sun 5 pm, through Feb 9, $15-19
Nunsense 'A Men'
The age-old story of men dressed up as nuns. Flying Rhinoceros Theater, 1440 NW Overton Street, 239-5919, Fri-Sat 8 pm, through Feb 9, $15
Phaedra's Love
Stellar performances by Madeleine Sanford as Phaedra and James Moore as the filthy sloth, Hippolytus, make the first half of this violent, over-sexed rendition of Seneca's ancient tragedy a mesmerizing treat. Moore fills the room with nastiness, and Sanford is all oozing temptress, as his conquest-obsessed stepmom who falls in love with him. Hippolytus resists, Phaedra pursues, and the seduction scene between them crackles with repellent energy. From there, the play goes downhill, primarily because Phaedra dies soon after. Defunkt Theatre, at the Back Door Theater, 4319 SE Hawthorne Blvd, 993-9062, Thurs-Sat 8 pm, Sun 4 pm, through Feb 16, $8-15
Richard II
The tale of the Poet King who brought his country to the verge of rebellion and ruin. Tygres Heart Shakespeare Company, 1111 SW Broadway, 288-8400, Opens Fri, Thurs 7 pm, Fri-Sat 8 pm, Sat-Sun 2 pm, through Feb 17, $18-36
* The Seagull
Chekov's tale of a young, emotionally unstable writer and his oblivious family is loaded with characters that are somehow both pretentious and lovable. That happens in every Chekov play, though. What sets The Seagull apart are its infinitely wise insights into the nature of writing and theater. PCS's production is gorgeous, the performances from its cast generally decent. Worth seeing. Portland Center Stage, 1111 SW Broadway, 274-6588, Opens Fri, Tues-Wed, Sun 7 pm, Thurs - Sat 8 pm, Thurs 12 pm, Sun 2 pm, through Feb 3, $16-44
Sponsored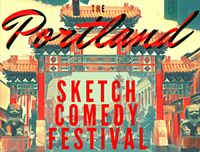 Sketch comedy troupes from all over N. America descend on The Siren Theater for 3 glorious nights.